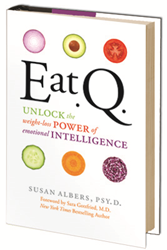 # 5 on Amazon, #1 in Weight Loss, #1 in Emotions
(PRWEB) October 10, 2014
Dr. Susan Albers, psychologist and author of the new book, EatQ, was ranked number five on Amazon this week and #1 in weight loss and #1 in emotion. This is the sixth book for Dr. Albers. In EatQ, Dr. Albers explains quick and easy tips that can help people make the food decisions they really want to make and stick with them. Here are a few examples of the one minute strategies Dr. Albers reveals in EatQ.
1) Eating with your non-dominant hand helps to slow down one's pace. This simple action reduces how much people eat by approximately 30% according to a study in Personality and Social Psychology Bulletin. It's like holding a pencil. A person can write with their opposite hand but it takes much more conscious thought. Putting your fork in your "other" hand breaks up the automatic hand-to-mouth flow of mindless munching.
2) Eat your favorite food last. According to a 2011 study in the British Journal of Nutrition, eating the most enjoyable cookie last instead of first keeps the experience fresh in a person's mind. Thus, it may be less tempted to consume more at a later time because the mind hasn't filed away the experience.
3) Use red plates or napkins as a tool to eat slower. The brain is wired to stop when it sees red.
4) Think location, location, location. Placing healthy foods in strategic locations like eye-level in the refrigerator increase the likelihood a person will eat them instead of tucked in a crisper drawer where they will no longer be in view. Out of sight, out of mind.
5) Take 3 mindful, deep breath before taking a bite increases the oxygen to the brain and helps people to make better food decisions.
Click here to learn about how to eat mindfully and to obtain Dr. Albers' amazing limited-time bonus gifts when purchasing EatQ. http://eatq.com/eatq-book/amazon.html