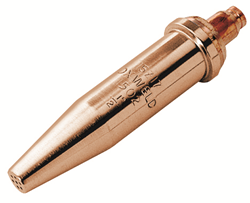 Florence, SC (PRWEB) October 10, 2014
ESAB' s Global Center of Excellence for Gas Apparatus in Florence, South Carolina announces a new copper finish for its OXWELD® Series of high-performance acetylene, alternate fuel, specialty cutting and Steel Industry Products tips included in its gas apparatus product line. In support of its commitment to environmental responsibility, ESAB will no longer chrome plate OXWELD cutting tips as of October 1, 2014.
The chrome plating process, used in a diverse array of industrial applications around the globe, is recognized as hazardous to the environment and potentially harmful to humans by the Environmental Protection Agency (EPA) and the Occupational Safety and Health Administration (OSHA). As an industry leader and in accordance with its ISO 14001 certification, ESAB strives to minimize its environmental footprint, which includes the elimination of hazardous substances.
The new copper finish OXWELD cutting tips match the performance of the chrome plated tips and are manufactured without the accompanying environmental impact. ESAB's precise CNC-controlled drilling process will continue to ensure consistency in cutting tip performance and quality. Users will experience no reduction in cutting tip hardness, durability or longevity.
As a result of this change, the production cycle for OXWELD cutting tips will be shortened and customers can expect improved delivery times.
"ESAB is focused on continual improvement in its products and processes, and is dedicated to promoting green values," said ESAB Product Manager, Travis Ham. "We will continue to provide the highest quality cutting tips in the industry, but will do so with less impact on the environment while reducing lead times."
ESAB Welding & Cutting Products is a recognized leader in the welding and cutting industry. From time-honored processes in welding and cutting to revolutionary technologies in mechanized cutting and automation, ESAB's welding consumables, equipment, and accessories bring solutions to customers around the globe. For more information, visit http://www.esabna.com or call 1-800-ESAB123.