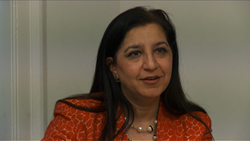 It was good to be invited to speak on 'anti-extremism' measures which are being pushed by the Conservative government.
London, United Kingdom (PRWEB UK) 10 October 2014
Aina Khan, the Head of Islamic Department at Legal 500 2014 top-tier firm Duncan Lewis Solicitors, appeared on a 30 minute panel debate on Voice of Russia Debate (VofR) discussing the Home Secretary Theresa May's proposed anti-extremism measures.
Aina added;
"It was good to be invited to speak on 'anti-extremism' measures which are being pushed by the Conservative government. It remains to be seen how much of this is a scare tactic in advance of the tough campaign for the UK General Election in May 2015 - and how much is a genuine belief that these rushed measures will tackle the real threat to our security.'
Aina Khan and Duncan Lewis Solicitors will be running a series of nationwide road shows in the coming months, as well as a social media campaign, providing vital information on unregistered marriages.
About Aina Khan
Aina Khan is Head of the Islamic Department at Legal 500 recommended law firm Duncan Lewis Solicitors. She is recognised as the leading specialist in Islamic Law in the UK.
Aina regularly makes TV, radio and press appearances. She has also advised parliamentarians and academics on Islamic Law and frequently speaks at the Houses of Lords and Commons as well as lecturing at Universities and community events.
About Duncan Lewis
Duncan Lewis, established in 1998, is the largest civil legal aid practice in the UK and one of the country's fastest growing firms of solicitors, serving both corporate entities and private individuals from offices across London and throughout the UK. A recommended leading law firm by Law Society Lexcel, Legal 500; Duncan Lewis employs over 500 members of staff and was the first law firm to achieve the Investors in People Gold Quality Standard Mark in 2009. Representing over 25,000 clients per year, the company has an excellent reputation in the Administrative Court, High Court and Court of Appeal in the Immigration, Public law and Family/Child Care jurisdictions.
Established areas of law are: business immigration, child care, civil liberties, clinical negligence, community care, crime and fraud, dispute resolution, debt and insolvency, employment, family and divorce, housing, asylum and immigration, Islamic law, litigation, mental health, personal injury, prison law, professional negligence, public law and administrative law, regulatory matters and welfare benefits.