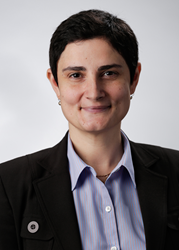 Chapel Hill, N.C. (PRWEB) October 10, 2014
The Society for Neuroeconomics has elected Camelia Kuhnen, a finance professor at the University of North Carolina Kenan-Flagler Business School, as its president.
Kuhnen is a pioneer in behavioral finance and the new field of neuroeconomics. Her work has an interdisciplinary nature, with the overarching theme of trying to understand how people make financial and economic choices that concern them as individuals or as decision makers in firms.
Her dual training in finance and neuroscience led her to conduct pioneering research in the new field of neuroeconomics. In this work Kuhnen has studied the micro-foundations of financial decision making by investigating the brain and genetic mechanisms responsible for learning and risk taking in financial markets.
In her corporate finance work, Kuhnen has analyzed issues at the intersection of behavioral and organizational economics. She has studied how firms select and incentivize employees and has demonstrated the importance of social connections and social comparisons for these processes.
Top neuroscience, finance and management journals have published her work, which has attracted significant media coverage and public interest.
Kuhnen received her PhD in finance from the Stanford Graduate School of Business and two bachelor's degrees (in finance and neuroscience) from MIT.
Kuhnen has served as a board member and officer for the Society for Neuroeconomics, which fosters research about economic behavior by promoting collaboration and discussion among scholars from the psychological, economic and neural sciences. She has been involved with the group since the founding of the new interdisciplinary research field of neuroeconomics.
#
About the University of North Carolina Kenan-Flagler Business School
Consistently ranked one of the world's best business schools, UNC Kenan-Flagler is known for its collaborative culture that stems from its core values: excellence, leadership, integrity, community and teamwork. Professors excel at both teaching and research, and demonstrate unparalleled dedication to students. Graduates are effective, principled leaders who have the technical and managerial skills to deliver results in the global business environment. UNC Kenan-Flagler offers a rich portfolio of programs and extraordinary, real-life learning experiences: Undergraduate Business (BSBA), full-time MBA, Executive MBA Programs (Evening, Weekend and global OneMBA®), online [email protected], UNC-Tsinghua Dual-Degree EMBA, Master of Accounting, PhD, Executive Development, and UNC Business Essentials programs. It is home to the Frank Hawkins Kenan Institute of Private Enterprise.