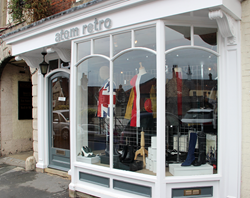 Online retro clothing retailer, Atom Retro has opened their first bricks and mortar shop at 7 Market Place, Malton, following 10 years of online trading.
Malton, North Yorkshire (PRWEB UK) 15 October 2014
Online retro clothing retailer Atom Retro has opened its first bricks and mortar shop at 7 Market Place, Malton, following 10 years of online trading. Atom Retro stocks a host of well-known retro, mod and heritage fashion brands in its outlet in Malton's bustling town centre.
Atom Retro's shop manger, Brian Poulton, explained, "We decided to open the Malton shop as the town had received some great publicity about the quality of its shopping. We looked at several locations for the shop and Malton appeared to be the best in terms of footfall and cost. We opened last week and the shop is already performing better than we'd expected."
Atom Retro stocks well-known brands for both men and women, including Pretty Green, Ben Sherman, Baracuta, John Smedley, Farah Vintage and Luke 1977 for men and Darling, Lovestruck, Traffic People and Friday On My Mind for women, among many others. In addition, Atom Retro has introduced Fred Perry and Lyle and Scott, new for this season. Lyle and Scott will also be available on the Atom Retro website shortly, where as Fred Perry will be exclusive to the Malton shop.
Although Atom Retro will be a new name to a lot of local residents, Atom Retro is actually celebrating its 10th year of trading this year. Atom Retro was founded in Scarborough, North Yorkshire in 2004 and up until now sold exclusively online. Atom Retro also designs and makes it's own home brand, Madcap England, which will also be available in the Malton shop.
About Atom Retro:
Atom Retro is a UK leading clothing retailer, boasting the largest range of authentic, high quality retro and mod clothing for men and women online. The Atom Retro range is inspired by the Carnaby Street boutiques of the sixties and includes an ever growing list of iconic brands and original, independent designers. Atom Retro is currently celebrating their 10th anniversary this year. Browse Atom Retro's extensive range of retro and mod clothing at http://www.atomretro.com.