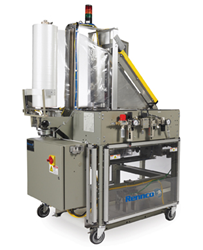 The new injection and blow molding option was developed for loose part packaging, where reducing dust and dirt contamination will provide a competitive edge. -- Robin Thurgood, Rennco VP and General Manager
Homer, MI (PRWEB) October 10, 2014
Rennco, powered by Pro Mach, features at Pack Expo 2014, November 2-5 in Chicago, the Vertic-L-PP bagging system for counting and bagging injection and blow molded parts. This new fully automated solution for the injection and blow molding industries reduces the risk of dust and dirt contaminating parts during shipment, lowers overall packaging materials cost, and decreases the amount of time employees are involved in packing products for shipment. (Rennco Pack Expo Booth # N5327)
Following injection or blow molding, parts are routed via conveyor to the Vertic-L-PP system. Those parts are automatically counted, staged, and then bagged, with each bag containing the specified number of parts. The Vertic-L-PP forms, fills, and seals each bag from a single roll of polyethylene mounted on the machine. This eliminates the use of higher cost premade bags. Bags can be up to 24-inches wide and up to 18-inches long. Changing part count and/or bag length is accomplished simply and quickly through the Vertic-L-PP touch screen.
"The Vertic-L-PP system, which was originally designed for the laundry industry, is a proven and highly reliable system, one of our more popular machines," said Robin Thurgood, Vice President and General Manager, Rennco. "The new injection and blow molding option was developed for loose part packaging, where reducing dust and dirt contamination will provide a competitive edge. Automating the bagging system will increase throughput and lower operational costs."
For more information on the Vertic-L-PP for injection and blow molding, call 800-409-5225 and visit http://www.rennco.com.
About Rennco
Rennco, powered by Pro Mach, manufactures vertical packaging L-sealing equipment and automated packaging systems. For more than 40 years, companies have depended on Rennco solutions to package a wide variety of products in polyethylene, polyolefin, and PVC bags. Rennco is a market leader in delivering innovative, reliable, cost-effective solutions for fully automated, semi-automatic, and hand-loaded bagging operations. All Rennco products are designed and manufactured in Homer, Michigan. For more information about Rennco, visit http://www.Rennco.com.
About Pro Mach
Pro Mach is a leading provider of integrated packaging and processing products and solutions for food, beverage, consumer goods, pharmaceutical, and other diverse companies. Through its brands, Pro Mach provides product packaging and processing equipment, PMMI certified training, installation, parts, and service in Bottling & Capping, Primary Packaging, Flexible Packaging, Material Handling, Identification & Tracking, and End-of-Line Packaging.
Pro Mach has a diverse customer base, from Fortune 500 companies to smaller, privately-held businesses worldwide, which depend on reliable, flexible, technologically advanced equipment and integrated solution sets. Pro Mach is headquartered near Cincinnati, Ohio, with manufacturing facilities and offices throughout the United States, Canada, and Europe. For more information about Pro Mach, visit http://www.ProMachInc.com.