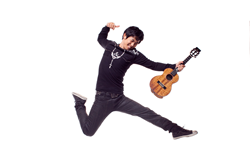 Fairfield, CT (PRWEB) October 10, 2014
The Fairfield Theatre Company is proud to welcome ukulele master Jake Shimabukuro to the Norwalk Concert Hall at 9 p.m. on Sunday, Oct. 19.
Born in Honolulu, Hawaii, Shimabukuro was given his first ukulele lesson by his mother when he was only four years old. Fascinated by the uke, Shimabukuro eventually began playing regularly at a local Honolulu café where he became a founding member of Pure Heart and played on the trio's first two albums.
Since then, Shimabukuro has taken the four-string, two-octave instrument to places no one could have imagined, performing a vast music spectrum from jazz, blues and funk to bluegrass, classical and folk, and is widely recognized as "the Jimi Hendrix of the ukulele." He's created an international fanbase as a sensational performer with a reputation for leaving audiences awed, dazzled and delighted.
Over the past decade, he's become a one-man army advancing the ukulele cause, turning the four-string axe into a supremely pliable musical vehicle, capable of generating everything from crunching, effects-laden rock to sensuously swinging jazz. Strumming with a hummingbird blur, he coaxes an impossibly big sound out of the little instrument, playing an intoxicating mix of pop tunes, American Songbook standards and lilting originals.
Shimabukuro has released a series of award-winning albums, but surpassed himself with 2011's "Peace Love Ukulele," a multifaceted session that showcases the range of his musical vision. It's a bravura recording that leaves no doubt why fellow string renegades such as banjo star Béla Fleck, fiddle wizard Darol Anger, and cello virtuoso Yo-Yo Ma embrace him as one of their own.
Coming now to the Norwalk Concert Hall in support of his latest album release, "Grand Ukulele," which finds the Hawaiian musician collaborating with legendary producer/engineer Alan Parsons (best known for his work on Pink Floyd's "Dark Side of the Moon" and "The Beatles' Abbey Road") who ended up helping Shimabukuro expand his sound, by bringing in a 29-piece orchestra and a big-name rhythm section, including drummer Simon Phillips (The Who, Toto), session superstar bassist Randy Tico and Kip Winger (Winger, Alice Cooper), who helped with the orchestration.
"The best thing was that, even with all those people, we recorded everything live with no overdubs," says Shimabukuro. "It was great, tracking live with an orchestra and a rhythm section. We picked up on each other's subtle emotional cues – you could feel everyone breathing together. It was like the old days of recording – when everyone tracked together – there's a certain magic that happens."
Join the Fairfield Theatre Company as they welcome this wizard of the ukulele to the Norwalk Concert Hall as Jake Shimabukuro presents a night of jaw dropping music in support of his new record 'Grand Ukulele."
Jake Shimabukuro
Date: Sunday, Oct. 19
Doors: 8 p.m.
Show: 9 p.m.
Venue: The Norwalk Concert Hall
125 East Avenue, Norwalk, Connecticut
Tickets: $35, $45, $65 Members Discount $5 -$10
Buy tickets: Box Office: 203.259.1036 or reserve online: http://www.fairfieldtheatre.org
About the company:
Fairfield Theatre Company is a highly-acclaimed non-profit performing arts organization located in the heart of downtown Fairfield, Connecticut. FTC presents nearly 250 performances and concerts each year featuring outstanding national talent on FTC's StageOne in Fairfield, The Klein Auditorium in Bridgeport, and the Norwalk Concert Hall in Norwalk. FTC's intimate 200-seat StageOne concert venue is widely recognized as being one of the best places to see a live performance in the region. FTC is dedicated to providing the highest-quality arts, live entertainment and educational experiences to the communities it serves.