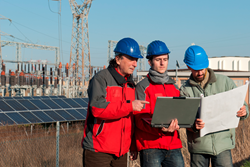 Utilizing the Tax Credits are key for NC Solar Farm deals.
Asheville, NC (PRWEB) October 10, 2014
One of the hurdles for many European Investors of solar farm deals in the United States has been to source a good home for both the federal and state tax credits that these massive projects generate. Innovative Solar Systems, LLC has just formed strategic relationships with major tax syndicators here in the United States and are now paving the way for foreign investors to partner up with ISS to build, own and operate these solar energy plants while making the economics pencil out quite nicely for these deals. ISS has grown to become one of the larger developers of solar energy projects here in the U.S. with a current yearly revolving portfolio of about 1 Gigawatts of solar projects.
Large solar farms, like the current portfolio of 25MW to 80MW size projects, that ISS has approved and is shovel ready can be challenging for investors if not utilizing the tax credits and incentives. But, once all components in these deals are structured and handled properly, renewable energy projects afford the investors very nice returns. ISS has just made hurdles and deal structures easier for their potential buyers of these projects by now partnering the company's buyers of these Utility Scale projects directly with the Tax Equity Investor that is able to accurately utilize both federal and state tax credits from the projects.
"North Carolina has been one of the most progressive states in the country for renewable energy and to see this much solar power being added to the grid in 2015 is very exciting," states company CEO, John Green of ISS. More and more investors are putting money into renewable energy projects due to the length of the investment, above average returns, lower risk, and low cost of asset ownership over the life of the project.
To learn more about Innovative Solar Systems, LLC and the companies approved and shovel ready solar farms for sale please contact the company directly at (828)-215-9064.