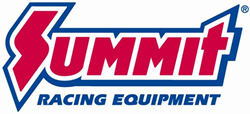 Tallmadge, OH (PRWEB) October 11, 2014
Summit Racing can help vehicle owners do brake and fuel system work properly with S.U.R.&R. brake line and fuel line replacement kits and tools. The kits have what is needed to repair or replace the hard line in most brake and fuel systems, all wrapped up in a convenient storage case.
E-Z Brake Line Kits
S.U.R.&R. says one of its E-Z brake line kits can cut labor time by 50%. The kits include the necessary SAE and metric fittings needed to repair the hard brake line system on most vehicles. You also get 25 feet of Easy Bend steel alloy brake line. The line can be bent by hand without tools, so it's simple to install and route. The brake line is rated to 3,000 PSI and has a lifetime warranty against rust and corrosion.
Each E-Z Brake Line Kit comes in a handy storage case complete with a fitting ID chart in the lid. Kits are available for 1/4 inch and 3/8 inch brake lines.
Deluxe Fuel Line Replacement Kit
This kit is perfect for replacing fuel line or creating a new hard fuel line for any vehicle. The kit features push-to-connect fittings that are compatible with steel and nylon line found on most GM, Ford, Chrysler, and import vehicle fuel systems. The connectors need no tools to install, and they even have a cool little thumb-release for easy removal.
The kit includes 1/4, 5/16, and 3/8 inch connectors, 75 feet of nylon fuel line rated to 200 PSI, tube cutter, clamp pliers, heat sleeve, tubing clamps, and storage case with fitting ID chart.
Fuel Injector Cleaner Kit
Clean fuel injectors improve performance and fuel economy. Vehicle owners can clean their own injectors at home with this S.U.R.&R. kit. Just fill the canister with any canister-style cleaning solution, connect it to an air compressor and the injectors, then let the tool thoroughly clean the fuel injectors, intake valves, and fuel passages. The Fuel Injector Cleaner Kit can be used on gasoline and diesel engines and comes with hose, quick-connect fittings, adapters, and storage case.
Summit Racing carries other S.U.R.&R. repair kits and tools:

Air conditioning line repair and fitting kits
Brake bleeder removal tools
Line flaring tools
Hose clamp kits
EGR port cleaning kits
Fuel injection pressure testers
SEE ALL S.U.R.&R. PRODUCTS AT SUMMIT RACING
Summit Racing Equipment
http://www.SummitRacing.com
1-800-230-3030