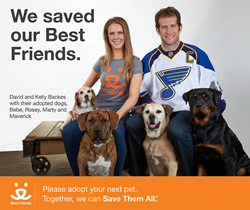 We can't imagine a day without the unconditional love our rescued pets give us and hope that working together will bring about a day when adopting is the only option
ST. LOUIS (PRWEB) October 10, 2014
David Backes, NHL hockey player and captain of the St. Louis Blues, two-time Olympian and Silver medalist, and his wife Kelly, an animal welfare professional, walk the walk when it comes to saving the lives of shelter animals.
The Backes are the founders of the non-profit organization, Athletes for Animals, a united team of professional athletes with a shared passion for rescuing and protecting the welfare of homeless pets nationwide. They also are among the latest celebrities to support Best Friends Animal Society's national effort to end the killing of dogs and cats in America's shelters.
Now David and Kelly Backes join other luminaries such as Danny Trejo, Carrie Ann Inaba, Denise Richards, Nils Lofgren, Josef Newgarden, Amanda Seyfried, Maggie Q, and Elisabeth Rohm participating in Best Friends' photo campaign featuring celebrities posed with their personal rescued dogs and/or cats in support of the Save Them All  call to action.
"Together when we save our best friends we help create a more kind and compassionate world," David Backes said.
"We can't imagine a day without the unconditional love our rescued pets give us and hope that working together will bring about a day when adopting is the only option," Kelly Backes added. "The resilient spirit of a pet who has had a second chance in life is something we can all learn from!"
According to national statistics, each day more than 9,000 dogs and cats die in the nation's shelters. Best Friends has brought increased awareness to how people can get involved in the solution by adopting, and spaying/neutering their pets, donating, volunteering and sharing this message with their friends.
About Best Friends Animal Society®
Best Friends Animal Society  is a national animal welfare organization focused on ending the killing of dogs and cats in America's shelters. An authority and leader in the no-kill movement, Best Friends runs the nation's largest no-kill sanctuary for companion animals, as well as lifesaving programs in partnership with rescue groups and shelters across the country. Since its founding in 1984, Best Friends has helped reduce the number of animals killed in shelters nationwide from 17 million per year to about 4 million. Best Friends has the knowledge, technical expertise and on-the-ground network to end the killing and Save Them All®.
To like Best Friends Animal Society on Facebook go to: http://www.facebook.com/bestfriendsanimalsociety
Follow Best Friends on Twitter: http://twitter.com/bestfriends
###