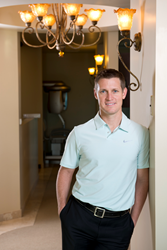 Scottsdale, AZ (PRWEB) October 10, 2014
People suffering from gum recession can now protect their health by visiting Dr. Erik P. Svans at SC Dental Group for the Chao Pinhole Surgical Technique™, an innovative procedure to repair receding gums. Patients experience little pain and enjoy a swift recovery period after this minimally invasive procedure. By visiting a dentist in Arizona for gum recession treatment, patients can reduce their likelihood of experiencing infections and other complications.
With the Chao Pinhole Surgical Technique™, Dr. Svans typically needs only 2 hours to correct recession affecting up to 14 teeth. To perform the procedure, Dr. Svans makes a pinhole incision in the receding gum tissue. Next, he inserts a small tool through the pinhole and carefully loosens the gum tissue until he can pull it down to cover the exposed root. Bleeding, pain, and infection risk are minimal for patients because the procedure is minimally invasive. The Chao Pinhole Surgical Technique™ can be especially beneficial for patients with severe recession. Though a gum graft can repair receding gums, only a few teeth can be treated at a time, since the gums and roof of the mouth need time to heal. The Chao Pinhole Surgical Technique™ offers faster results for people who would otherwise require multiple gum grafts.
Gum recession can have numerous causes and consequences. People suffering from this condition should visit a dentist to determine why the recession is occurring. Gums may recede due to factors such as genetics or hormonal fluctuations, but recession may also be caused by hygiene habits, such as brushing forcefully or brushing and flossing infrequently. In many cases, recession is an early sign of periodontal disease, which makes treatment from a dental professional critical. Even in the absence of periodontal disease, recession can leave teeth sensitive and exposed to damage or infection, which makes treatment to repair receding gums beneficial.
Since recession occurs gradually, it can be difficult to detect. People suffering from recession may notice tooth sensitivity, pain, and even mobility. In terms of appearance, the tops of the affected teeth may look yellower or notched, which indicates the cementum is exposed. People who notice these warning signs should not delay visiting a dentist. Current and potential patients in Arizona are encouraged to schedule a consultation with Dr. Svans by calling the office or visiting their website.
About the Practice
SC Dental Group is a general practice offering personalized dental care for patients in West Phoenix and surrounding areas since 1997. Dr. Steven C. Chang received a degree in chemistry from the University of Texas and then went on to receive his Doctor of Dental Surgery degree from the University of Texas Health Science Center at San Antonio, ranked the number one dental schools in the U.S. Dr. Erik P. Svans graduated from the University of California, Davis in 1994 and the University of Pacific Dental School in San Francisco in 1997. Dr. Svans believes in continuing education and stays current on the latest technologies and techniques available. Both Dr. Chang and Dr. Svans joined an exclusive group of doctors to offer The Pinhole Surgical Technique (PST™) for gum recession treatment. To learn more about SC Dental Group and their dental services visit their website at http://www.scdentalgroup.com to select the location closest to you.