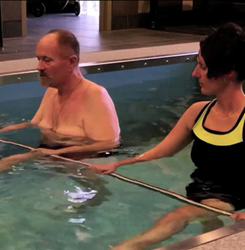 The topic of new developments in treating lymphedema with aquatic therapy will be discussed during the upcoming live webinar.
Middletown, PA (PRWEB) October 10, 2014
Lymphedema, the swelling that occurs when tissues in the body fill with fluids as a result of a blockage in the lymphatic system, typically occurs as a result of cancer treatment. Some statistics indicate that lymphedema may strike a cancer survivor up to three decades after treatment has been completed. Unfortunately, when lymphedema does attack the lymph system, it causes discomfort, targeted pain and swelling for the patient. These symptoms can limit an individual's desire and/or ability to easily move on land, leading to unwanted weight gain, poor health and emotional distress. Now, physical therapy experts are suggesting that aquatic therapy in an advanced pool fitted with an underwater treadmill may be one of the best ways to help patients with lymphedema move freely in a forgiving environment.
The topic of new developments in treating lymphedema with aquatic therapy will be discussed during the upcoming live webinar. The event, hosted by the National Rural Health Association, is sponsored by underwater treadmill therapy pool manufacturer HydroWorx and will be presented by Holly Bough, CPTA, ATRIC, Head of the Aquatic Therapy Program for Freeman Health Systems in Joplin, Missouri. From 1:00-2:00 p.m. EDT on Tuesday, October 14, 2014, Ms. Bough will cover many subjects relating to lymphedema management using hydrotherapy, including:

Which water properties are most beneficial for patients with lymphedema.
How aquatic therapy can reduce pain and improve strength, energy levels and balance.
Treatment goals for patients with lymphedema.
Specific exercises for patients with lymphedema of the upper and/or lower extremities.
"Aquatic Therapy for Lymphedema" is free to anyone who would like to participate in this interactive discussion. Registration can be made by visiting http://ww2.hydroworx.com/webinar-lymphedema.
About the Presenter
As head of the Freeman Health Systems aquatic therapy program, Holly Bough is well-versed in working with many different client populations. She currently oversees the aquatic program for Freeman Health and utilizes a zero-depth entry aquatic therapy pool to work with people who have been diagnosed with a variety of conditions, including lymphedema. Ms. Bough graduated from Metropolitan Community College in Kansas City, and obtained her Aquatic Therapeutic Exercise Certification from the Aquatic Therapy and Rehab Institute.
About HydroWorx
HydroWorx, based in Middletown, Pennsylvania, offers a wide range of underwater treadmill therapy pools, and peripheral products and services. Every day, more than 23,000 athletes and patients use HydroWorx technology to recover from injuries and health conditions.
More information about HydroWorx's upcoming webinars, as well as archived webcasts from previous events, can be found by visiting http://www.hydroworx.com/research-education/video-library/details.aspx?id=151&categoryId=23.