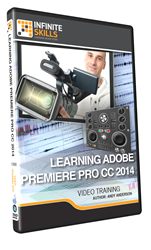 Learn Adobe Premiere Pro CC 2014 at your own speed
(PRWEB) October 10, 2014
Software training firm Infinite Skills Inc. this week released its "Learning Adobe Premiere Pro CC 2014 Tutorial," a course designed to teach both beginning and experienced video editors the fundamentals, best practices, and popular advanced features of Adobe's flagship video editing software.
With the Creative Cloud version of Premiere Pro, Adobe has shifted its programs from the locally accessed Creative Suite version, to cloud-based applications, updating the programs more often. The latest version includes updates to the interface, the new search bins feature, multi-project workflows, and more.
Infinite Skills' "Learning Premiere Pro CC 2014 Training Video" covers key new features, including the most useful shortcuts and key commands, while also providing a strong introduction to essential Premiere Pro editing and production tools, allowing new users to begin creating professional-level videos for any audience quickly and efficiently.
Learning Adobe Premiere Pro CC 2014 Video Training - Streaming
Course author Andy Anderson is a career photographer, professor, and designer, with decades of commercial and artistic publications to his credit. He works in and trains others primarily on creative software, having authored 17 best-selling books on photography, and graphics and design with digital media. Focusing on the Adobe Creative Suite line, Anderson works and trains others in using Premiere Pro, Photoshop, Elements, Illustrator, Flash, and Dreamweaver.
Anderson begins by explaining some essential aspects of working in Premiere Pro, providing an overview of the interface and basic workflow, along with managing and customizing workspaces.
Anderson then explains how to get started with a project by importing various media assets from multiple sources, as well as how to organize, manage, and search imported clips.
The course then moves toward editing and production, as Anderson explains how to work with the Premiere Pro timeline and begin editing and adding effects.
Additional chapters cover special effects, working with transitions, creating title effects, working with audio, and finalizing projects for publication.
"As a videographer the program will change your life," Anderson says. "It is an absolute wonder, Premiere Pro will do anything in video production, from films of your baby's first walking steps to creating a Hollywood production. It doesn't matter, this program does it all."
Free demo videos and a full list of course contents can be found on the "Learning Adobe Premiere Pro CC 2014" training page of the Infinite Skills website:
http://www.infiniteskills.com/training/learning-adobe-premiere-pro-cc-2014.html
Infinite Skills offers its "Learning Premiere Pro CC 2014 Training Video" either as a DVD or a direct download from the company website at a retail price of $99.95. All Infinite Skills titles and formats are compatible with Mac and Windows operating systems. Shipping is available around the globe. Additionally, Infinite Skills tutorials are supported by project files which correspond to examples in the videos, allowing users to work alongside experienced instructors right on their computer or iPad.
About Infinite Skills Inc.
A leader in the field of software training, Infinite Skills strives to offer the highest quality training available at an affordable cost. Infinite Skills tutorials are task-oriented instructional videos, teaching complex skills by providing hands-on examples and guiding users as they carry out critical objectives. Infinite Skills offers a comprehensive range of software titles available as DVDs, digital downloads, and in iPad editions, keeping with company aim of delivering professional training to customers anywhere they want to learn.