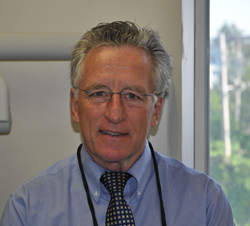 Braintree, MA (PRWEB) October 10, 2014
In honor of Dental Hygiene Month, Dr. Thomas Mone encourages local residents with gum disease to schedule a consultation with his periodontal practice in Braintree, MA. Dr. Mone is part of a small group of dental professionals who are qualified to perform the LANAP® protocol, which is a laser based treatment for periodontal disease that does not involve stitches or scalpels. Periodontal disease patients who do not wish to undergo more traditional gum disease treatments may be good candidates for the LANAP® protocol.
Gum disease is most commonly attributed to poor dental hygiene, but there are also other factors that can lead to the development of the condition. Some individuals may be more susceptible to periodontal disease due to their family genetics, while others may find that certain medications contribute to the development of the disease. Regardless of the cause, periodontal disease can be uncomfortable and even dangerous if left untreated. Studies show an undeniable link between untreated periodontal disease and a wide variety of other diseases, including heart disease and diabetes. In order to minimize the risk of developing additional complications, periodontal disease patients are urged to visit Dr. Mone's periodontal practice in Braintree, MA during Dental Hygiene Month and receive the LANAP® protocol.
The LANAP® protocol is a very quick procedure that is minimally invasive compared with traditional periodontal disease treatments. A highly advanced laser is used in place of a scalpel to remove diseased gum tissue. Because the laser is extremely accurate, it does not cause damage to healthy teeth, bone, or gum tissue while removing diseased tissue. The accuracy of the laser makes it possible for the patient to keep as much of their healthy gum tissue as possible and minimizes the risk of excessive bleeding or other complications.
Almost every person who suffers from moderate to advanced gum disease is a good candidate for the LANAP® protocol. Patients who want to receive the treatment and improve their dental health during Dental Hygiene Month are urged to schedule a consultation with Dr. Mone's periodontal practice in Braintree, MA to find out if they qualify for the procedure.
About The Doctor
Mone Periodontics is a periodontal practice offering personalized dental care for patients in Braintree, MA. The leading periodontist at the practice, Dr. Thomas Mone, graduated from the University of Massachusetts with a bachelor's degree, and then went on to attend the University Of Pennsylvania School Of Dental Medicine and graduated at the top of his class. He completed his periodontal training at Boston University Goldman School of Graduate Dentistry. Dr. Mone is part of one percent of dental professionals providing the LANAP® FDA cleared laser procedure for gum disease and periodontal treatment. To learn more about Mone Periodontics and their dental services, visit their website at http://www.braintreeperio.com and call (781) 348-9925.