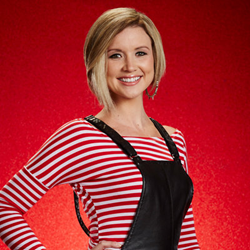 Atlanta, GA (PRWEB) October 10, 2014
Beth Spangler, Actors, Models and Talent for Christ grad, sang an excellent rendition of Beyonce's Best Thing I Never Had on Monday, October 7.
All four judges, Blake Shelton, Adam Levine, Gwen Stefani and Pharrell Williams, fought to get Beth on their teams. Pharrell Williams said, "I believe in you enough to stand up," as he rose to his feet, while Adam Levine cradled his head in his hands and begged Beth to join his team. Beth chose Team Adam.
What comes next for rising artist, Beth Spangler? Much practicing with Adam Levine.
Originally from Aiken, S.C., Beth experienced a calling into the music industry at a young age. The now 30-year-old has been #12 on MTV's Popular Artist list, and was named Top 8 Emerging Artists with Kings of A&R. Beth wants to bring hope and inspiration through her music, representing God's grace to her fans. Her mission goes along with AMTC's vision to "make good bolder." AMTC President Adam She says, "If we are to transform culture by making good bolder in arts and entertainment, we must choose to be a part of it, but not be conformed to it."
Beth auditioned in Augusta, Ga. for AMTC in 2012 and was accepted into the program. She showcased her talents in front of more than 85 agents and talent scouts from across the country at the Summer SHINE Conference in 2013 and came out with 18 callbacks. After AMTC, Beth met and signed with "Icon Studios":http://www.iconstudiosatl.com in Atlanta.
For more information on AMTC or to register for an audition near you, please visit http://www.amtcworld.org.
Check out Beth's audition for The Voice, and be sure to keep up with her on Twitter and Facebook!