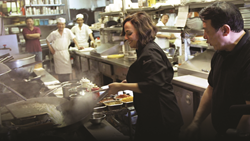 I'm excited to become a student again and learn about a 5000-year-old cuisine that is responsible for so much more than tea and noodles!
Toronto, ON (PRWEB) October 10, 2014
Lucent Media Production Inc. announces that production has begun on the 6 X 1 hr. documentary series Confucius Was a Foodie! A New World Adventure in an Ancient Cuisine. The series is being produced in partnership with New Tang Dynasty Television Canada for both English and Mandarin viewers, and is backed by the broadcaster's Canada Media Fund envelope with an expected delivery date in the first half of 2015. Lucent will head to MIPCOM next week to introduce the property to new partners.
Confucius Was a Foodie! was inspired by the discovery that the 2,500-year-old philosopher was in fact a 'gourmand' who wrote extensively on all aspects of food and eating. Confucius taught that food should be eaten seasonably, cooked with food safety in mind, and in moderation. He wrote: "Food can never be too good, and cooking can never be done too carefully."
Confucius Was a Foodie! follows a journey of discovery as celebrity chef Christine Cushing explores Chinese food in North America and, through her three Chinese master chef 'guides', learns about the five traditional Chinese cuisines and the place they hold in North American Chinese cuisine today.
Each episode will dispel North American misconceptions, inform, enlighten and entertain as Christine eats and cooks her way through some of North America's major centers of Chinese culture and cuisine.
The series will feature well-known celebrity chefs and fans of Chinese cuisine from food writers and bloggers to scholars and academics.
"To quote Confucius, 'real knowledge is to know the extent of one's ignorance'," says Cushing, a TV chef with classic French training. "What I know of Chinese cuisine does not come from my professional training, so I'm excited to become a student again and learn about a 5000-year-old cuisine that is responsible for so much more than tea and noodles!"
The Chinese title for the series will be "老外名廚學中餐," or literally, "Western celebrity chef learns Chinese cuisine."
The documentary is being directed and written by Theresa Kowall-Shipp who was senior producer for all four seasons of Christine Cushing Live and was Co-Creator and Creative Producer of Recipe to Riches, both on Food Network Canada. "Food TV has altered the way we look at food and this kind of documentary is an evolution of food programming," says Kowall-Shipp. "With Confucius Was a Foodie! we are looking at Chinese food as a cuisine both central to an ancient culture and a lot of fun."
Additionally, Kowall-Shipp notes thats Cushing brings a combination of academic background, curiosity and laughter to the series. Whether trying to make a dumpling with instructions in Cantonese, or operating a Chinese Wok cooking table with heat controls at her knee, she is the perfect combination of serious chef and eager student. "Viewers are going to fall in love with Christine and Chinese cuisine all over again!"
Confucius Was A Foodie! is one of an array of documentaries being created by Lucent Media Executive Producer Jason Loftus in partnership with NTD that look at how Chinese culture is adapting and thriving in the West. "There's a lot in Chinese culture that resonates in the West when we can get past the clichés and stereotypes," says Loftus. "Confucius Was a Foodie! will challenge what you know about Chinese food, surprise you, and introduce you to a rich world of cuisine that is thriving right in your backyard."
About Lucent Media Production
Employing a cross-cultural team of top established and emerging production talent, Lucent Media Production Inc., produces documentaries, drama, performing arts, and interactive properties that tell great stories and transcend cultural barriers. The Toronto-based company led by executive producer Jason Loftus produces both original English-language and Chinese-language projects for a diverse audience.
Loftus is also executive producer of the Miaomiao animated series that introduces Mandarin language education to preschoolers, and the action-adventure game series, Shuyan the Kung Fu Princess, which was featured in several "Best of Canada" showcases in 2013/14.
Lucent Media will be at MIPCOM as part of the Mark Animation table at the Canada Pavilion, stand P-1.A51. MIP Contact: Jared Pearman, Director of Business Development, 613.325.6274 | jared(at)lucentmedia(dot)ca
About NTD Television
New Tang Dynasty (NTD) Television is the largest Chinese broadcaster in North America and is seen by over 100 million viewers worldwide. It was the world's first independent, non-profit Chinese-language TV broadcaster established by Chinese living outside China. NTD began broadcasting via satellite in North America in February 2002 and extended its 24/7 programming to Asia, Europe, and Australia in July 2003. Headquartered in New York City, the network has gained an international reputation for its objective and timely reporting of political, economic, and cultural stories in the Chinese language, as well as for its multi-faceted educational and entertainment programs that bring together the finest in both Eastern and Western cultures. NTD Canada is a licensed multi-language Canadian broadcaster available on Bell Fibe, Rogers, Shaw, and Novus.
NTD also knows a thing or two about Chinese food, playing host for the last five years to the world's pre-eminent Chinese cuisine competition in New York's Times Square, with winners cooking a banquet for guests at the prestigious James Beard Foundation. Confucius Was a Foodie! is the first documentary series of this kind created for NTD and serving both English and Mandarin viewers.
-30-
Media Contact:
Jason Loftus
Executive Producer
jason(at)lucentmedia(dot)ca
(Direct) 416.737.5302