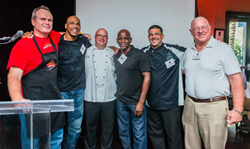 Whether you are a foodie, football fan or charity supporter, you're in for a real treat with new event components that are sure to be crowd-pleasers and keep people coming back for more year after year.
Pompano Beach, FL (PRWEB) October 13, 2014
The competition is heating up as celebrity teams comprised of Miami Dolphins legends and critically acclaimed South Florida chefs get ready to face-off at this year's "John Offerdahl's Broward Health® Gridiron Grill-Off Food, Wine & Tailgate Festival." The fifth annual culinary showdown that combines food, football and charity with as many as 2,500 attendees will take place at the Pompano Beach Amphitheater on Sat., Nov. 8 from 1 p.m. – 4 p.m.
"Now in our fifth year, we're turning up the heat with more delicious food and entertainment for an elevated event experience," said John Offerdahl, event founder and former Miami Dolphins All-Pro Linebacker. "Whether you are a foodie, football fan or charity supporter, you're in for a real treat with new event components that are sure to be crowd-pleasers and keep people coming back for more year after year."
The teams are bringing their "A" game this year with menu items to include #11 Jensen's Josper Grilled Skirt Steak with Brussel Sprouts, #22 Wooden's Chipotle Wagyu Ribs with Rustic Kale Salad and #25 Oliver's Graised Ox Tail with Horseradish Panna Cotta. Attendees will get to sample all of the signature grilled entrees, paired with premium Gallo wines. One winning team will be recognized with the People's Choice Award, while another team will be selected by a panel of esteemed judges to receive the coveted Judge's Choice Award.
Team pairings include guard Ed Newman and Peter Boulukus of YOLO, center Jeff Dellenbach and Chef Peter Vauthy of Red, the Steakhouse, safety Glenn Blackwood and Chef Victor Franco of Oceans 234, linebacker AJ Duhe and Chef Jeff Pfeffier of Lobster Bar Sea Grille and center Dwight Stephenson and Chef Michael Cerny of Truluck's Fort Lauderdale and many more. Also joining the teams are several media personalities to add to the fun, including television news anchors: Neki Mohan, Todd Tongen and Kristi Krueger of Local 10, Trina Robinson of NBC 6 and Steve Shapiro of 7 News, plus meteorologists Erika Delgado of NBC 6 and Denise Issac of Telemundo 51.
In addition to great food and wine, organizers have added new opportunities to elevate the guest experience, including The Jack Daniel's Tennessee Honey Tailgate Challenge, Guy Harvey's Sustainable Seafood Village and Chef Allen Susser's VIP Culinary Exhibition.
The Jack Daniel's Tennessee Honey Tailgate Zone adds music, football, giveaways, interactive games and a cash bar for premium cocktails and craft beers. The experience also includes a Tailgate Challenge, presented by Omaha Steaks, with teams selected to compete for a $1,000 Grand Prize by creating a recipe that combines Jack Daniel's Tennessee Honey and premium Omaha Steaks meat.
Guy Harvey's Sustainable Seafood Village will have a variety of interactive and educational experiences, including a tasting tent, games and an exhibit on the latest ocean technology and sustainable practices for maintaining a healthy environment.
New this year is a VIP experience presented by Taste of the NFL, which includes an added hour of fun from noon to 1 p.m. with an open bar, a live cooking demonstration from Chef Allen Susser and a "Cook-Off Competition" between Big 105.9 FM morning personalities, Paul Castronovo and Young Ron Brewer.
Keeping with tradition, event guests will compete at the Toyota Cornhole Stadium and enjoy music throughout the day at the Festival Stage with the Masters of Ceremonies, Finsider's Greg Likens and Footy of Y-100 fame.
All of the proceeds from this tribute to football, food and charity benefit Offerdahl's Hand-Off Foundation, which directs funds to agencies that "Feed the Needs of Kids in Crisis," including 4KIDS of South Florida, HOPE South Florida, Here's Help, Florida Restaurant & Lodging Association Educational Foundation, Miami Dolphins Foundation and Taste of the NFL.
Event tickets are $85 each or $125 each for Chef Allen Susser's VIP Culinary Exhibition, which includes access to all of the Gridiron Grill-Off festivities. Tickets are on sale now at http://www.gridirongrilloff.com.
About the Gridiron Grill-Off
"John Offerdahl's Broward Health® Gridiron Grill-Off Food, Wine & Tailgate Festival," celebrating its fifth anniversary, pairs Miami Dolphins legends with South Florida's top chefs to prepare signature dishes on the grill as part of an exciting culinary competition for charity on Saturday, November 8 at Pompano Beach Amphitheater, 1806 NE 6th Street, Pompano Beach, Fl.
Event sponsors include Allegiance Crane & Equipment, Allied Kitchen & Bath, Badia Spice, Batts Morrison Wales & Lee PA, BB&T, BigMouthGirlz.com, Broward Health, Carnival Foundation, CBS Outdoor, Charles Schwab, Cheney Brothers, City of Pompano Beach, Clear Channel, Coca-Cola, Comcast, Culinary Art Institute, DSK Group, Inc., EJ Gallo, EyesOn News, Fiberbuilt Umbrellas, Inc., Fine Awards, Fort Lauderdale Marriott Pompano Beach Resort & Spa, Gold Coast Magazine, Green Dot Advertising, Guy Harvey, Inc., IKEA, Impact Imagery Group, Jack Daniels Tennessee Honey, Ken's Salad Dressing, Lifestyle Media Group, National Christian Foundation of South Florida, Northwestern Mutual, Ocean Spray, Omaha Steaks, Orange Bowl, Premier Beverage, Publix, QuinnProQuo, Samuel Adams, Shellback Rum, SocialBuzzTV.com, Southern Specialties, Sun Sentinel, Sunshine Cleaning, Sweet Street Desserts, Templeton & Company, The Wasie Foundation, Think Magazine, Three Olives Vodka, Two B Printing, USA Parking Systems, Walgreens, Xylem and Your Toyota and Scion Dealers.
About John Offerdahl
Five-time All-Pro Miami Dolphins Linebacker John Offerdahl created the Gridiron Grill-Off Food, Wine & Tailgate Festival in 2010 to integrate his love for grilling and football with his passion for helping kids in crisis. For more than a decade, John has operated the ever-popular Offerdahl's Café Grill, a quick-casual restaurant specializing in just-grilled steak, chicken, salmon & shrimp on salads, sandwiches and entrees topped with John's signature dressings & sauces. John and his wife, Lynn, give back to the community through Offerdahl's Hand-Off Foundation.
About Broward Health®
Broward Health, providing service for more than 75 years, is a nationally recognized system in South Florida that offers world-class healthcare to all. Broward Health includes Broward Health Medical Center, Broward Health North, Broward Health Imperial Point, Broward Health Coral Springs, Chris Evert Children's Hospital, Broward Health Weston, Broward Health Community Health Services, Broward Health Physician Group, Broward Health International, Broward Health Urgent Care and Broward Health Foundation. For more information, visit BrowardHealth.org.