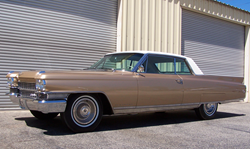 Seal Beach, Ca (PRWEB) October 12, 2014
Celebrating over 32 years of manufacturing and retailing General Motors (GM) restoration parts and accessories, the Original Parts Group, Inc. (OPGI) is once again gearing up to attend the Specialty Equipment Market Association (SEMA) Show in Las Vegas, Nevada with an all-new, upgraded presence for 2014.
OPGI returns to the SEMA Show this year with a new 1,200 square foot, two-story display booth that will serve as the backdrop for hundreds of classic car parts, including dozens of new interior and exterior components along with a selection of just-released emblems, mirrors, door handles and other factory accurate reproduction parts that vintage GM enthusiasts have been asking for.
In addition to a host of new restoration parts, OPGI will also display two immaculately restored classic GM cars at the show, with both featuring the extensive use of OPGI parts throughout. OPGI's favorite black 1965 SS Malibu convertible will make an appearance along with a freshly restored, 1963 Cadillac Coupe de Ville that has never been seen by the public before. The gold Cadillac is one of only a handful of '63 Coupes that were special ordered from the factory in top-of-the-line Eldorado trim specifications. Visitors to the SEMA Show this November will find both restored cars along with OPGI's extensive restoration parts display located at booth #23987 in the Main Hall.
From interior and body parts to engine parts, sheet metal, bright trim and everything in between, OPGI offers the widest selection and best prices on the highest-quality parts for your classic GM restoration project. Celebrating over 32 years of manufacturing and retailing GM restoration parts and accessories, OPGI is recognized as the nation's number one supplier and manufacturer of classic GM parts and is committed to maintaining that reputation for years to come. For more information, visit OPGI.com or call toll free: 1-800-243-8355.
Contact:
Original Parts Group, Inc.
1770 Saturn Way
Seal Beach, Calif. 90740
562-594-1000