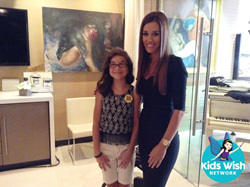 I am impressed how she turns what many of us perceive as limitations into opportunity.
Hagerstown, Md. (PRWEB) October 10, 2014
As 12-year-old Kierslyn Davis from Hagerstown, M.D., walked among the stars of Hollywood Boulevard, she was embarking on her own travel to stardom. Thanks to children's charity Kids Wish Network, Kierslyn was getting the Hollywood treatment on her celebrity wish starring herself and "Beverly Hills Pawn."
Kids Wish Network is a nationwide charitable organization dedicated to infusing hope, creating happy memories and improving the quality of life for children having experienced life-altering situations. One way that the organization provides joy to kids is through its wish-granting program that creates once-in-a-lifetime wishes for children suffering from life-threatening illnesses.
Kierslyn was diagnosed with an extremely rare, life-threatening condition when she was 7 months old.
She suffers from Ehlers-Danlos syndrome (EDS), an inherited connective tissue disorder caused by a defect in the structure, production, or processing of collagen in the body. The abnormal collagen in her body causes her skin, joints, muscles, ligaments, blood vessels and visceral organs to become more elastic. Kierslyn needed a year of physical therapy to learn how to walk, and at age 9, began experiencing severe hip pain and joint dislocation.
This extremely painful condition cannot be fixed by surgery; Kierslyn wears a special body suit to hold her joints together and in place. She receives routine injections in her back to help with pain relief and is followed very closely by her pain management doctors. Kierslyn struggles daily with excruciating pain that causes her to miss school, prevents her from participating in sports and activities, and requires her to rely on a walking device or wheelchair for mobility.
"Kierslyn endures so much on a daily basis," states mom Kelly. "But throughout the journey, she remains positive. She always puts others' feelings, needs and wants before her own."
For Kierslyn's wish, Kids Wish Network put her first and sent her on an all-inclusive Hollywood experience where she was the star. The family stayed at luxury accommodations, walked among the Hollywood stars, visited the famous Madame Tussauds Wax Museum, and got some camera time on "Beverly Hills Pawn."
Kierslyn was immersed in the show's production, getting her hair and makeup done and some on-camera time with the stars.
"What struck me most about Kierslyn was her positive attitude and creative ability," says Dominique, one of the stars of "Beverly Hills Pawn." "I am impressed how she turns what many of us perceive as limitations into opportunity. That is the equation for success in all areas."
Yossi Dina, the store's owner and another star of the showed added, "Kierslyn is a lovely young lady and an inspiration to all. She made me feel great about the work I am doing and makes it all worthwhile. My door is always open to her."
Kids Wish Network would like to thank all the generous sponsors that helped Kierslyn be a star during her wish experience: "Beverly Hills Pawn" and its cast, Luxe Rodeo Drive Hotel, Madame Tussauds, El Capiton Theater, Villa Blanca, Fresh Brothers Pizza, In & Out Burger, Mulberry Street Pizza, and National Car Rental.
Come experience the Kids Wish Network difference at http://www.kidswishnetwork.org.
###