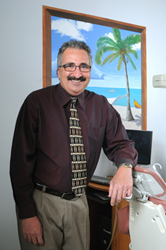 Monroe, CT (PRWEB) October 10, 2014
During October, which is recognized as Dental Hygiene Month, Dr. Richard Amato encourages residents to protect their health by seeking gum disease treatment and any other necessary dental care in Monroe, CT. Dr. Amato offers patients the minimally invasive LANAP® protocol as an alternative to gum grafting and other gum disease treatments. In addition to treating periodontal disease, this laser treatment reduces the likelihood of tooth loss, infections, and other complications.
The LANAP® protocol effectively addresses periodontal disease while eliminating undesirable effects associated with other treatments. The laser Dr. Amato uses during the procedure, the PerioLase® MVP-7™, has no harmful effects on healthy gum tissue, teeth, or bone, and its precision allows Dr. Amato to leave as much healthy tissue in place as possible. The laser even stimulates regeneration of the alveolar bone, which supports the teeth. This can greatly reduce the chance of at risk teeth being lost. After this laser treatment, Dr. Amato's patients typically experience little pain or bleeding, and most patients can resume normal activities the next day. The risk of infection is also low, as the procedure is minimally invasive and the laser has a cauterizing effect. This helps patients recover quickly and pursue any other dental care in Monroe, CT they may need.
Periodontal disease treatment offers benefits for both oral and systemic health. When Dr. Amato's patients seek treatment early enough, they can often avoid outcomes such as severe gum recession, bone density loss, tooth mobility, and subsequent tooth loss. Additionally, gum disease treatment may reduce the risk of general health complications. As gum disease progresses, periodontal bacteria can enter the bloodstream and circulate, causing inflammation throughout the body. Researchers think this may be one reason that gum disease is associated with various chronic health problems, including pancreatic cancer, stroke, and heart disease. Dr. Amato encourages patients to understand that they may be risking their overall health, in addition to their oral health, when they delay gum disease treatment or other necessary dental care in Monroe, CT.
People who notice gum disease symptoms, such as gum inflammation, bleeding, or tooth mobility, are advised to call Dr. Amato's office and schedule an appointment. Patients are also welcome to visit the practice website to request an appointment or learn more about gum disease and LANAP® laser treatment.
About the Doctor
Dr. Richard Amato is a periodontist and dental implant specialist who provides personalized dental care using the most advanced technology for patients in Monroe, Connecticut. He has placed thousands of dental implants since 1989. Dr. Amato graduated first in his class with a DDS degree from Stony Brook University. He then completed a full time, multi-year specialty residency and received his Certificate of Proficiency in Periodontics from Eastman Dental Center at the University of Rochester. He belongs to the one percent of dentists in the USA currently providing the first FDA-cleared laser procedure for gum disease treatment. Dr. Amato is the first and most experienced provider of LANAP® therapy in Fairfield County, Connecticut. To learn more about Dr. Amato and his dental services, visit his website at http://www.connecticutperiodontist.com and call (203) 712-0917.