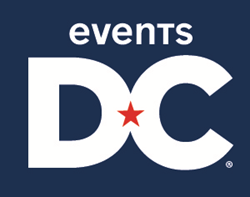 Washington, DC (PRWEB) October 10, 2014
The Greater Washington Hispanic Chamber of Commerce (GWHCC) honored Events DC board member Jay Haddock Ortiz's contributions to the District of Columbia's Latino business community by presenting him with the Chairman's Award at their annual Hispanic Heritage celebration last week. Mr. Haddock, president of Capital Hotels and Suites, has been a dynamic member of the Events DC Board of Directors since 2007, serving as vice chairman for nearly three years as well as chairing the organization's Operations Committee and a member of the Finance Committee.
"We extend our heartfelt congratulations to Jay Haddock Ortiz on this notable achievement and for his unwavering commitment to the city's Latino business community and the District as a whole," said Michele V. Hagans, chairman of Events DC's Board of Directors. "As a fellow board member and friend, I praise Jay for both his leadership and fiduciary oversight of Events DC's operations."
The award was the first-ever GWHCC Chairman's Award which will become a part of their annual Hispanic Heritage event that brings together and honors leaders of the Hispanic business community to celebrate their heritage and culture.
"As a veteran of the hotel industry, Jay's contributions have been able to infuse the local Latino community with new opportunities and resources to help grow businesses and define even greater success for the city," said Gregory A. O'Dell, president and chief executive officer of Events DC. "We applaud these efforts that have helped strengthen the District's economic and tourism industries."
"The Greater Washington Hispanic Chamber of Commerce Chairman's Award was created to recognize leaders of the Hispanic business community such as, Jay Haddock, who has served as an instrumental catalyst in the District of Columbia's Hispanic business community and has been a role model for many of us, including myself," said GWHCC President and Chief Executive Officer Angela Franco.
The celebration for the Chairman's Award included a full program with special remarks from long-time community leader Sonia Gutierrez from Carlos Rosario International Public Charter School and District of Columbia Mayor Vincent C. Gray.
Events DC
Events DC, the official convention and sports authority for the District of Columbia, delivers premier event services and flexible venues across the nation's capital. Leveraging the power of a world-class destination and creating amazing attendee experiences, Events DC generates economic and community benefits through the attraction and promotion of business, athletic, entertainment and cultural activities. Events DC oversees the Walter E. Washington Convention Center, an anchor of the District's hospitality and tourism economy that generates over $400 million annually in total economic impact, and the historic Carnegie Library at Mt. Vernon Square. Events DC manages the Stadium-Armory campus, which includes Robert F. Kennedy Memorial Stadium and surrounding Festival Grounds, the non-military functions of the DC Armory and Maloof Skate Park at RFK Stadium. Events DC also built and now serves as landlord for Nationals Park, the first LEED-certified major professional sports stadium in the United States. For more information, please visit http://www.eventsdc.com.
Greater Washington Hispanic Chamber of Commerce (GWHCC)
The Greater Washington Hispanic Chamber of Commerce is a membership driven organization that supports the economic development of the Greater Washington metropolitan area by facilitating the success of Latino and other minority-owned businesses and the communities they serve through networking, advocacy, education, and access to capital. The Chamber was founded in 1976 and is 501(C) 6 nonprofit. For additional information visit our website http://www.gwhcc.org.