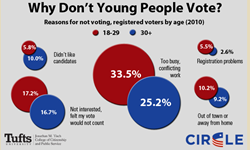 Young voters, ages 18-29, continue to play a pivotal role in country's elections. They were an influential constituency in both the 2008 and 2012 president elections, and have the opportunity to play that role again during the 2014 midterm election
Medford/Somerville, MA (PRWEB) October 14, 2014
Heading into the November 2014 midterm election, the Center for Information and Research on Civic Learning & Engagement (CIRCLE) – the preeminent, non-partisan research center on youth engagement based at Tufts University's Jonathan M. Tisch College of Citizenship and Public Service - today releases a midterm election toolkit – a compilation of previously compiled and distributed data and information on youth, youth voting patterns and engagement at your finger tips housed in CIRCLE's 2014 Election Center.
Providing an in-depth understanding of the behaviors and voting patterns of young Americans, ages 18-29, the 2014 Election Center's toolkit offers national, state-by-state and congressional district breakdowns of analysis and data relating to this important group of voters.
"Our 2014 Youth Election Center is a 'one-stop shop' for all things related to youth voting as we head toward Election Day," said Peter Levine, director of CIRCLE. "Young voters, ages 18-29, continue to play a pivotal role in country's elections. They were an influential constituency in both the 2008 and 2012 president elections, and have the opportunity to play that role again during this year's 2014 midterm elections. It's important that we have a clear understanding of who young voters really are, instead of the myths that too often define this critical voting block."
Some of the new products released this election cycle by CIRCLE's researchers and analysts include:

CIRCLE is well known for producing unbiased analysis on youth voting in every election cycle. In addition to providing publicly released products, CIRCLE's team of experts are also available to help put current data on youth voters and politics into a broader context based on their own research and knowledge of scholarly literature on the subject area.
Additional products and background analysis on the voting patterns and behaviors of young voters previously released by CIRCLE, include:
Why Half of Youth Don't Register to Vote
How Youth Register to Vote
Why (Some) Registered Youth Don't Vote
Lessons from the 2010 Elections about Turnout among Registered Youth
Lack of Information and Engagement Make Presidential and Midterm Years Different for Youth
** To speak to one of CIRCLE's youth vote experts or for further information on youth voters in America, please contact Kristofer Eisenla at kristofer(at)lunaeisenlamedia(dot)com or 202-670-5747**