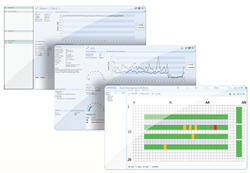 The goal is to be proactive in reaching out to our customers to ensure they are getting the most out of RaMP.
St. Louis, MO (PRWEB) October 13, 2014
No Limits Software announces new personalized service for their RaMP Data Center Infrastructure Management (DCIM) solution. This new service, which is covered at no additional charge under the standard maintenance/upgrade plan, will match an engineer from No Limits Software with every customer to ensure they are getting the most out of their RaMP solution. This personalized service will include regular customer checkups to answer questions, provide additional training, and offer suggestions for how to best use the data center management solution. First year checkups will include an initial consultation two weeks after installation to make sure the customer initial expectations for the solution are being met and to reinforce the user training. Additional checkup consultations will be done monthly until the customer is comfortable with RaMP and then quarterly following that.
By matching a customer with a consistent contact within No Limits Software, the goal is for No Limits Software engineers to become involved with our customers, to learn about their data center and how they are using RaMP to help them manage capacity, energy efficiency, availability, and processes within the data center. Customer feedback will help No Limits Software to define and prioritize the future direction of the RaMP features.
"This new service is unique in the DCIM industry," said Dave Cole, president of No Limits Software. "The goal is for us to be proactive in reaching out to our customers to ensure they are getting the most out of RaMP. It's also a great opportunity for our customers to provide feedback and request new features for future releases."
The RaMP DCIM solution provides data center management from the virtual machine to the IT infrastructure (servers, blades, storage, network) to the Facilities infrastructure (power, cooling, environmental monitoring). RaMP's auto-discovery allows you to be up and running in hours rather than months and automated change management ensures that the data stays accurate, even when people make changes outside of the change management process. RaMP also provides software and operating system license management, state of the art workflow management to manage tasks, and complete integration with intelligent rack solutions from multiple manufacturers.
The RaMP DCIM solution provides the following benefits:

Auto-discovery of detailed device information
Real-time monitoring of virtual, IT (servers, network, storage), and Facilities (power, cooling, environmental)
Software and operating system license management
Lease, warranty, and service contract maintenance
Asset cost tracking
Automated change control to reduce MTTR and increase availability
Web services API for integration with other systems
PUE, DCiE and CADE energy management calculations
Device type roll-up views for an easy way to quickly compare device performance
Visual workflow and task management
About No Limits Software
No Limits Software is a leading provider of data center management solutions, including asset and change management, capacity planning and real-time monitoring. No Limits Software helps you to better understand and more effectively operate your data center through (1) data center training, either on site or on line, (2) RaMP DCIM software, and (3) intelligent cabinets to automate data center management at the cabinet level.