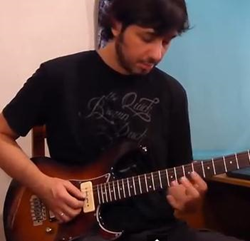 (PRWEB) October 12, 2014
The lick that Gaby teaches in this lead guitar lesson is based on the minor 7th arpeggio and incorporates right hand tapping. Gaby plays the arpeggios in the following voicing's; Em7, F#m7 (F sharp minor seven), Gm7 and Am7. Soule demonstrates how to play the Em7 arpeggio as follows; 7th fret of the 5th string with first finger to the 9th fret of the 4th string with 3rd finger to the 7th fret of the 3rd string with first finger to the 8th fret of the 2nd string with 2nd finger to the 7th fret of the first string with first finger and finally to the 10th fret with 4th finger. All of this sequence is played by using hammer-on's and a single tapped note on the 15th fret of the first string with the 2nd finger of the right hand. Gaby continues by simply moving the entire lick up the fret board to accommodate each of the positions. Guitar TAB's are available for this lead guitar lesson at GuitarControl.com.
An arpeggio is when the notes of a chord are played separately in a sequence. The word comes from the Italian word apeggiare which means "to play on a harp".
Gaby Soule
Gaby Soule is a guitarist, composer and singer originally from Argentina but has lived and worked in Spain as a musician and guitar instructor for many years. He has released several albums with his own projects and with other artists. He's been a member of many bands in Argentina and Spain. Gaby has worked with other groups touring Europe and South America, and played with bassist Rudy Sarzo (Whitesnake, Ozzy Osbourne, and Dio), Walter Giardino (Rata Blanca), La Renga and other artists like Andres Calamaro. He combines his activity as a guitar instructor in Madrid, Spain, as well as being an online guitar teacher. Gaby is currently writing new material for his upcoming project.
About GuitarControl.com
GuitarControl.com is the leader in modern guitar instruction. It's packed with recourses including articles, video lessons, and the best videos in the business for the beginner to the advanced guitar student taught by the best instructors out there. Weather you are into the blues, rock, jazz, metal, folk, or anything in between, they have you covered.