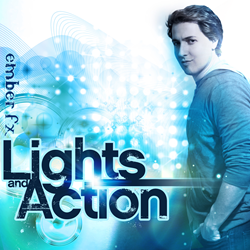 An ambitious idea ... to make a video that involved the members of the band acting in an 8-bit world. We were able to capture the elements of games from our youth, while showcasing the fun spirit of the band and song.
Los Angeles, CA (PRWEB) October 13, 2014
Even one year following its initial release, the buzz is big around Ember FX's Lights and Action. Multiple songs still hanging tight to their chart positions, a recent licensing placement, and soon a brand new music video: Ember FX will release the video for "Adore You" tomorrow on iTunes.
The video places Ember FX frontman Michael Berns and his bandmates in a video game alternate reality, where they fight to save the girl and save the day.
"We as band love those old arcade games -- Capcom's Street Fighter, Double Dragon, Final Fight," Berns says. "We thought of how fun it would be for some special effects artist to put us in a game – defeat the bad guy (played by Chris Darkes) and save the girl (Kelly Studnicki)." 'Adore You' seemed right for this video because many of the sounds in the song are 8-bit synth sounds you might hear coming from an old Nintendo console."
Filmed almost entirely on a green screen, the video was directed by Andrew Lewitin, whose credits include visual effects for major motion pictures like Knight and Day and Gone Girl.
"Michael contacted me a while back with this ambitious idea for the 'Adore You' music video – he wanted to make a video that involved the members of the band acting in an 8-bit world," Lewitin recalls. "I took that concept and ran with it, coming up with a rough story line and some test scenes of how I imagined the video game world would look. We then shot the band and actors on a green screen in a single day, with only a few pickup shots over the next few months. After that, Michael and I spent a lot of time going back and forth, editing and finessing various elements of the video, and I did all of the visual effects myself. In the end we were able to capture elements of games from our youth, while showcasing the fun spirit of the band and song."
The video's damsel in distress, Kelly Studnicki, was cast in the video shortly after moving to Los Angeles – she says she became an Ember FX fan on set.
"I met the team through a general audition and starting filming later that week," she says. "The whole process was very relaxed and a lot of fun, and filming involved a lot of experimenting! Because we wanted a lot of options for the final product we tried tons of different kicks and punches. The whole time on set we had Ember FX music blasting and I had it stuck in my head for weeks! I had the chance to see a sneak peak of the video a few days ago and I was so impressed. Andrew worked for hundreds of hours to create an entire world and his work definitely shows."
The music video will be available on the Ember FX YouTube channel. It comes in the midst of radio success for the band – Lights and Action is a smash at SomaFM, where five songs have been on the charts over the past year and the album remains in their top 30 playlist – and a recent licensing placement – title track "Lights and Action" was used in a commercial spot for Aunt Millie's Bread Company, released last week.
Those successes follow up a banner 2013 for the band, in which Music Connection Magazine featured Lights and Action in its September issue and ultimately selected the album as one of its top 25 of the year in new music critiques.
"This pop-rock project has propulsive, hook-driven synth-pop songs that are custom built for high-profile radio. 'What Aren't We Going to Do' (mixed by Jack Joseph Puig) is the best of the bunch. … Lights and Action has impressive falsettos that glide along with the changing tempos. Can't see why KROQ, et. al, wouldn't consider Ember Fx for its playlist." – Music Connection Magazine, September 2013
ABOUT EMBER FX
Singer/songwriter Michael Berns will tell you that the name Ember Fx comes from a play on a childhood nickname. And that much is true. But the word ember – that last burning piece, the lingering glow that sticks with you and fades out slowly – captures the essence of this project all on its own. Born and raised in a quiet neighborhood in southern California, Michael's love for music sparked early. In high school and college, Michael studied musical theater and opera. He fell in love with artists like The Postal Service, Depeche Mode, Air, The Beatles. And when he discovered the possibilities of electronic music, expanded his creative palate beyond the confines of a three-piece instrumental method, the seeds of Ember Fx were planted. "I realized that the traditional setup was somewhat limited," he says. "By going electronic I had so many possibilities, the musical ideas are practically infinite." He explored those infinite ideas for the first time on Across the Land, Ember Fx's first album, released exclusively on iTunes last year. The album was essentially a solo effort, with a few notable guest appearances. 2013's Lights and Action is a much more collaborative effort, but the signature Ember Fx sound is there – complex, layered, vibrant – and the quest for connection with the fans is front and center. So, what about that childhood nickname? "When I was in school, I had a teacher who would call the students on the roll sheet by first initial and last name," Michael explains. "So I was M. Berns. But the way she called my name had a southern twang to it. Kids thought that was funny, so they would call me M. Berns on the lunch yard. I took it on as a nickname, and embraced it." Embrace it, he did – add the rich electronic "effects" to "Ember" and you've got it: Ember Fx.
###