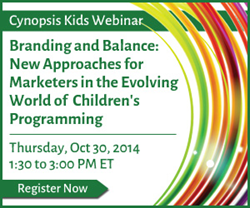 New York, NY (PRWEB) October 13, 2014
The Cynopsis Kids webinar will present up-to-the-minute, fresh approaches to trends in the ever-evolving brand integration market for kids. Executives from Sprout Cable Entertainment, PlayCollective and Kaleidoscope YFM will share their insights about "Branding and Balance: New Approaches for Marketers in the Evolving World of Children's Programming" on October 30 in a webinar hosted by Cynopsis Kids.
Speakers include Jennifer Giddens, VP of Marketing for Sprout Cable Entertainment, David Kleeman, SVP of Insights Programs & PlayVangelist for PlayCollective, Kara Rousseau, SVP of Ad Sales & Marketing for Disney Media Sales and Marketing and Mindelle Ziff, CEO for Kaleidoscope YFM.
During this informational 90-minute webinar, attendees will walk away with critical business intel including:

How to come up with a "big idea" that can be expressed in different ways
How and when to use premiums, attention-getting production features, celebrity endorsements, and product placements most effectively
The latest strategies and what make them sticky for kids and parents alike
Speed bumps and cautionary tales everyone needs to avoid
This highly interactive seminar will allow for real-time Q&A's to ensure specific questions are answered. To register for Cynopsis Kids' "Branding and Balance: New Approaches for Marketers in the Evolving World of Children's Programming" webinar, visit: http://www.cynopsis.com/webinar/branding-balance-new-approaches-marketers-evolving-world-childrens-programming/
Webinar attendees receive full access to speaker presentations along with a certificate of completion. Webinar tuition is based on location, not number of participants, so each registration site can have multiple participants for one low price. Questions? Contact Trish Pihonak at trish(at)cynopsis(dot)com.
About Cynopsis Media:
Cynopsis Media is a division of Access Intelligence LLC. The Cynopsis Media family of products includes Cynopsis, Cynopsis Digital and Cynopsis Sports daily e-publications, weekly Cynopsis Kids and Cynopsis Classified Advantage e-publications, Special eReports, Event/Summits and a strong database of Classifieds and more. Visit cynopsis.com.
###