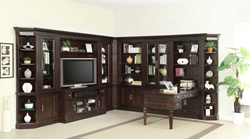 Customers can pick and choose the components that they need from the new Parker House Furniture collections to fit the space and budget.
East Brunswick, NJ (PRWEB) October 14, 2014
Homelement.com recently launched several new Parker House furniture collections this past week. The new introductions include two major Home Office collections: Aria and Stanford as well as several brand new entertainment center collections and some additions to existing collections.
Parker House Stanford is a complete home office and entertainment center solution with various components from bookcases, bar set, TV console, executive desks, and many more. This collection, featuring a clean traditional styling in light vintage sherry, is a perfect fit to any home or office decor. Customer can pick and choose the components that they need to build their own home office set right on Homelement.com's website.
Parker House Aria also features a complete home office solution with various components to choose from. The rustic traditional styling is finished in a beautiful Smoked Pecan finish. Made from Poplar solids and Pecan veneer, the Aria collection by Parker House Furniture is a great addition to your home office.
Several new entertainment centers are also on the list of the new introductions. Parker House Bella, Vellano, and Morro Bay collections offer customers several choices of styles, finishes, and sizes depending on their needs.
Lastly, Parker House also introduces entertainment armoires, available in both 60" and 75" width, to the existing Parker House Leonardo and Venezia collections. These entertainment armoires are complete departure from TV armoires of yesteryear when they were designed for tube TVs. These new entertainment armoires are completely redesigned for new flat panel TVs while providing customers the enclosure when the TVs are not used.
About Homelement.com
Homelement.com is a leading retail supplier of stylish and elegant home furnishings with more than a dozen years of industry experience. Homelement offers the complete selection of Parker House furniture at great prices including Parker House bookcase library sets, home office sets, entertainment wall units, Parker Living sofa sets, and much more.