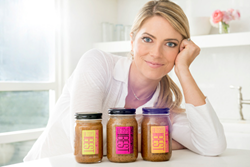 Naples, FL (PRWEB) October 14, 2014
Picky palates rejoice. Betsy's Best® – a new line of gourmet and all-natural nut and seed butters (peanut, almond and sunflower) – is now available for purchase online at BetsysBest.com and in all Florida Whole Foods Market locations. Consumers will delight in indulging in the line of spreads that not only taste great but also contain all-natural, non-GMO and gluten-free qualities that make them good for you too.
Betsy's Best® was created by Betsy Opyt, the President and CEO of Healthy Concepts Food Company, LLC in partnership with Omelet Brands, a division of Omelet LLC, which is an LA-based branding, marketing and entertainment company. Seeking a gourmet yet healthy alternative to other available nut and seed butter brands, Betsy set out to create her own food to fall for – and what she discovered was that her signature flavor came from combining unique ingredients like cinnamon, chia seeds and rock salt. Each jar retails for $9.99 (peanut butter), $10.99 (seed butter) and $12.99 (almond butter).
"Betsy identified a real disconnect between nut and seed butters that are both delicious and inherently healthy," said Ron Nordmann, Chairman of Healthy Concepts Food Company, LLC. "We're proud to have created a solution to that problem with our great tasting, all-natural and gourmet peanut butter, almond butter and sunflower seed butter."
"My daughter refused to eat every other peanut butter brand on the market," explained Betsy. "What started as the search for a healthy snack for her, turned into a passion for combining ingredients that are both gourmet and good for you."
In addition to Whole Foods Market's Florida locations, the company is actively pursuing additional distribution outlets nationwide.
About Healthy Concepts Food Company, LLC:
Healthy Concepts Food Company, LLC is a gourmet and health food company based in Naples, Florida. Founded by Betsy Opyt in 2012 – a Registered Dietitian, personal trainer and Certified Diabetes Educator – the company is dedicated to producing gourmet, original consumer products that utilize the world's best all-natural ingredients to create food to fall for.
http://www.betsysbest.com
About Omelet Brands:
Omelet Brands is the original consumer products and services division of Omelet LLC – an LA-based marketing, branding and entertainment company. With a focus on developing and partnering on original concepts for the consumer market, Omelet Brands utilizes the resources and intelligence of Omelet in order to help create, develop, market and expand on company-owned consumer products and services. Omelet Brands is pleased to partner with Betsy's Best® to launch the best line of gourmet, delicious and all-natural nut and seed butters into the market.
http://www.omeletla.com
Contact:
Devin Desjarlais
Omelet PR Manager
devin[dot]desjarlais[at]omeletla.com
424-672-8606