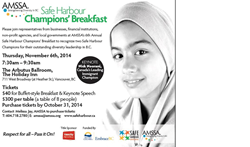 It's a way for local businesses to give back to the community by modeling respect."
Vancouver, BC (PRWEB) October 10, 2014
Safe Harbour: Respect for All is one of AMSSA's national diversity programs that provides workshops to businesses, institutions, agencies and municipalities to explore stereotyping, bias, exclusion and marginalization and provides practical ways to address discrimination.
Safe Harbour's annual fundraiser is also an opportunity to award diversity champions in British Columbia. Most people don't know what to do when they witness acts of discrimination. Safe Harbour certified locations learn how to respond to discrimination and how to create more inclusive workplaces.
"The Safe Harbour program does two things for our neighbourhoods and communities – it starts conversations about diversity and the importance of acceptance and safety for all community members, and at the same time it offers an opportunity for local businesses to stand up against racism and stand up for respect and inclusion. It's a way for local businesses to give back to the community by modeling respect," says Lisa Pedrini, Manager of Social Responsibility and Diversity for Vancouver School Board.
There are three categories for which a safe harbor location can be nominated and awarded Champion of Diversity.
1) Furthering equitable treatment for all in the workplace
2) Offering a safe place for individuals that are or have experienced discrimination
3) Preparing all staff on diversity initiatives
Last year Mission Community Services and James Bay Horizon Hotel in Victoria were recognized as Champion of Diversity.
This year, on Thursday November 6th, AMSSA will again recognize two champions for their outstanding diversity leadership in B.C. at the 6th Annual Safe Harbour Champions' Breakfast. In B.C. there are over 1000 locations eligible for the award. The Champion Breakfast is an opportunity for businesses, financial institutions, non-for-profit agencies and government to network and congratulate this year's champions who are building welcoming and inclusive communities for all Canadians.