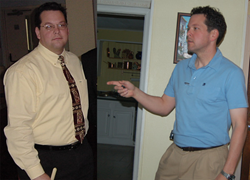 Diet Doc's healthy cholesterol lowering recipes and prescription hormone treatments have helped dieters throughout the country lose up to 20 lbs. per month.
Dallas, TX (PRWEB) October 13, 2014
Diet Doc knows that fad diets typically fail because they are generic and that most dieters require a unique weight loss strategy that will work for them. For this reason, Diet Doc created their prescription hormone treatments that are tailored to each patient's specific age, gender, medical conditions and nutritional needs. Diet Doc's healthy recipes and prescription hormone treatments have helped dieters throughout the country lower their cholesterol levels, with many dieters losing up to 20 pounds per month.
Dieters who are concerned about lowering bad cholesterol levels and improving their health by losing excess fat will initially consult, over the telephone or the internet, with a Diet Doc physician who has been specially trained in creating cholesterol diets with prescription supplements and healthy, low fat recipes. The patient and physician will discuss health history, including previous attempts at weight loss, and their overall weight loss goals. Considering each dieter's unique situation, the physician will then recommend and prescribe exclusive diet pills, supplements and hormone treatments that target and attack stored body fat, while also controlling the appetite and eliminating between meal hunger, food cravings and loss of energy during dieting. And, for added convenience, patients can easily order their supplements and prescription hormone treatments over the phone, or the internet, and have them delivered directly to their home or office to begin their cholesterol diet immediately following their initial consultation.
Certified nutritionists will also spend time counseling their patients on healthy recipes with nutrient rich foods that provide energy without causing weight gain – recipes that may include many of their personal food preferences, while being appropriate for their cholesterol diet. Because Diet Doc understands that many of their clients may not have a health or nutrition background, the company dedicates time to helping dieters acquire the skills necessary not only to lose weight, but to also sustain their weight loss in the future. And, to encourage clients to try healthy recipes on their own, Diet Doc also provides a complimentary copy of their exclusive cookbook featuring over 50 pages of easy to prepare, low calorie, cholesterol lowering food suggestions.
While competitors simply supply their clients with generic diet outlines and hormone treatments that contain levels of active ingredients too low to produce real results, Diet Doc is dedicated to providing the highest quality of diet products available on today's market. Their prescription hormone treatments and exclusive diet pills and supplements are manufactured in FDA approved, U.S.-based pharmacies. With each order, patients will find a Certificate of Analysis, performed by a third party laboratory, detailing the quality and quantity of all active ingredients.
In addition to prescribing fat burning treatments, the Diet Doc team also remains available for unlimited consultations with their clients to answer questions about their cholesterol diet, offer suggestions for healthy recipes and monitor patient progress to ensure that dieters comfortably and successfully reach their weight loss goals. Their personalized approach to improving health by helping their clients lower their bad cholesterol levels through diet has made Diet Doc the nation's leader in medically supervised weight loss programs.
About the Company:
Diet Doc Weight Loss is the nation's leader in medical, weight loss offering a full line of prescription medication, doctor, nurse and nutritional coaching support. For over a decade, Diet Doc has produced a sophisticated, doctor designed weight loss program that addresses each individual specific health need to promote fast, safe and long term weight loss.
Diet Doc Contact Information:
Providing care across the USA
Headquarters:
San Diego, CA
(888) 934-4451
Info@DietDoc.info
http://www.dietdoc.com
Twitter: https://twitter.com/DietDocMedical
Facebook: DietDocMedicalWeightLoss