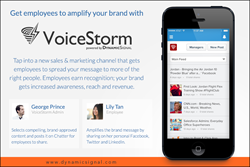 We see employee advocacy as one of the critical elements to social selling and content amplification, so putting it into employees' workflow is logical and effective.
San Francisco, CA (PRWEB) October 13, 2014
Dynamic Signal today announced it has launched VoiceStorm on the Salesforce AppExchange, empowering companies to connect with their employees in a whole new way. Companies using Salesforce are now empowered to build and run turn-key employee advocacy programs via their mobile devices. The integration will allow companies to expand their content distribution, enhance their social selling and engage their most valuable advocates – their employees – via their CRM programs.
Built on the Salesforce1 Platform, the social, mobile and cloud customer platform built to transform sales, service and marketing, VoiceStorm is currently available on the AppExchange at http://www.appexchange.com.
VoiceStorm Key Features
The VoiceStorm technology allows companies to seamlessly distribute relevant content to employees, giving them a convenient way to amplify it on the social web. It takes the guesswork out of advocacy for the employee and allows complete tracking and visibility for the company.
Comments on the News
● "We're excited to be part of Salesforce1 because our goals are tightly aligned. We want to help businesses continue to be effective in the way they work, and that is mobile first," explains Russ Fradin, CEO of Dynamic Signal. "We see employee advocacy as one of the critical elements to social selling and content amplification, so putting it into employees' workflow is logical and effective."
● "Companies are looking to transform the way they connect with customers, partners and employees to thrive in today's connected world," said Ron Huddleston, senior vice president, ISV & channel, salesforce.com. "By leveraging the power of the Salesforce1 Platform, Dynamic Signal provides customers with the proven social, mobile and connected cloud technologies to accelerate business success."
About Salesforce AppExchange
Salesforce AppExchange is the world's leading enterprise apps marketplace that empowers companies to sell, service, market and engage for the Internet of Customers. With more than 2,200 partner apps and more than 2.4 million customer installs, it is the most comprehensive source of social, mobile and connected cloud apps for business.
Additional Resources
● Become a fan of salesforce.com on Facebook: http://www.facebook.com/salesforce
● Follow salesforce.com on Twitter: https://twitter.com/salesforce
● Become a fan of Dynamic Signal: http://www.facebook.com/dynamicsignal
● Follow Dynamic Signal on Twitter: http://www.twitter.com/dynamic_signal
Salesforce, Salesforce1, AppExchange and others are among the trademarks of salesforce.com, inc.
About Dynamic Signal
Dynamic Signal is a Silicon Valley software company that provides VoiceStorm, a marketing platform that helps top brands partner with and leverage the social reach and influence of their employees, fans and customers to achieve their branding, marketing and commerce goals. VoiceStorm is the only comprehensive "OS for advocacy," a single platform for sourcing, managing and distributing content, for managing relationships with advocate groups, and for sharing via mobile apps. It's the only feature-complete, one-stop platform with everything needed to run a successful program: an advocate hub, gamification tools to engage advocates, and real-time reporting and insights on program participation and performance. Dynamic Signal's customers include top companies across entertainment and media, consumer packaged goods, financial services, fashion and beauty, high tech, and advocacy. The company, founded in 2010, is based in San Bruno, CA, and is comprised of a veteran management team and top-tier investors including Trinity, Venrock, Time Warner Investments, Rembrandt Venture Partners and Cox Media Group.