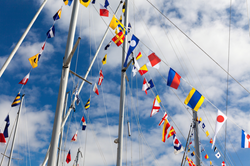 Meet the 2014 Best Boating Community of the Year - River Dunes
Annapolis, Maryland (PRWEB) October 11, 2014
October is the month to visit pumpkin patches and enjoy hot cider in front of a warm fire. While this is a autumn tradition at home, the River Dunes boating community celebrates the changing of the seasons by visiting the boating capital of Maryland, Annapolis. This weekend and next, it's estimated over 130,000 people from around the world will come to explore the latest in marine gear and boats.
Folks interested in Inner Banks waterfront property will be able to talk with the folks at River Dunes at the Annapolis shows. River Dunes is a two time winner of Real Estate Scorecard's Bliss Award for Best Boating Community of the Year and this is just one of many awards the community has achieved!
October 9-13, 2014 marks the dates for the United States Sailboat Show in Annapolis. This event is the oldest and most popular boat show around the globe, and folks from miles around are traveling here to discover what's new in the sailing world. River Dunes is the host of the annual sailing Leukemia Cup Regatta held within the community of Oriental North Carolina, nicknamed the "Sailing Capital of North America" where sailboats outnumber residents three to one. This past June, the event raised over $140,000 for charity. River Dunes is a coastal master-planned community with 124 deepwater boat slips, an 1,100 foot boating access channel and protected Grace Harbor Marina. Cottage homes come in a variety of styles and sizes. Some have wide white front porches, tall windows and attractive metal roofs featuring coastal designs by Historical Concepts, an award winning Georgia based architectural firm.
On October 16-19, 2014, folks who like more power behind the wheel can check out the United States Powerboat Show at the same location. Both the Sailboat and Powerboat events begin at 10 a.m. Friday and last until 5:00 p.m. on Sunday. Tickets for adults for one day are $18 and a three day VIP preview costs $35. Children can accompany their parents for free if they are 6 years old or under. Buyers searching for Inner Banks waterfront property will have plenty of time to see the 100+ water exhibits, meet the friendly folks of River Dunes and attend the Seminars on Sailing presented by Chesapeake Bay and the Annapolis School of Seamanship.
Whether folks are serene sailors or a propelled powerboaters, everyone has the opportunity to explore the newest makes, models, equipment and accessories at both 2014 Annapolis Boat Show weekends. Manufacturers and brokers will be available to answer questions, while exhibits will feature the latest and greatest products for people who want to sail in style. It is truly a boating extravaganza and a great chance to talk with the folks at River Dunes in Annapolis.
River Dunes has been capturing the attention of boaters for years. This 1,345 acre boating community is the ultimate in Inner Banks waterfront property. More than 35 homes have been built to date and a total of 650 are planned.
​Check out River Dunes homes
328 acres are dedicated as an exclusive nature preserve and include scenic hiking trails and 14 miles of natural shoreline. The award winning River Dunes boating community is known for their love of the open water, but the residents also cherish amenities already built within their neighborhood.
RIVER DUNES AMENITIES
11,500 Square Foot Clubhouse overlooking the marina with dining
Grace Harbor Marina and Private 1,100 Foot Boating Access Channel
124 Deepwater Boat Slips with utilities
Outdoor Swimming Pool overlooking the marina
Fireside Hot Tub and Cozy Cabanas
Fitness Center with Steam Showers
Two Lighted Har-Tru Tennis Courts
The Lake House for social events
238 Acre Nature Preserve
Guest Cottages
Riverside Chapel
From sailing to the sunset horizon or powerboating around the bay, this is the best place to check out the latest in boating trends and learn more about the River Dunes boating community.
Be sure to stop by booth C-50 at the United States Sailboat Show or booth C-48 for the United States Powerboat Show to learn more about River Dunes.
About Real Estate Scorecard:
Real Estate Scorecard writes unbiased real estate reviews providing in-depth information about popular gated communities in Florida, Georgia, North Carolina, South Carolina and Tennessee, all in an effort to help people discover where to retire in the Southeast.
Website: http://realestatescorecard.com