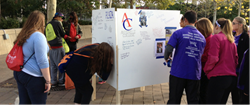 CINCINNATI, OH (PRWEB) October 10, 2014
Antonelli College-Cincinnati teamed up with Plaza Art Supply and the Cincinnati Chapter of the Alzheimer's Association to play a part in this year's Greater Cincinnati/ Northern Kentucky Walk to End Alzheimer's Disease®. Antonelli was invited to create a "Memory Wall" to be set up at the main entrance of the walk to encourage those participating to leave messages, memories, drawings, paintings, or photographs to commemorate loved ones currently struggling with the disease as well as those who have passed. Cincinnatians and Kentuckians alike turned out in droves to show their support for ending this terrible disease and many left their marks on the wall to show that their memories live on.
Both Antonelli College faculty and students representing nearly all programs attended to help with the installation and execution of the event. This year's Walk to End Alzheimer's surpassed its goal of reaching half a million dollars by raising over $518,000. The wall will be taken on tour by the Alzheimer's Association to local nursing homes and fundraisers to collect more memories over the coming months with the hope of collecting funds for the advancement of research to finally find a cure.
The Alzheimer's Association Walk to End Alzheimer's® is the world's largest event to raise awareness and funds for Alzheimer's care, support and research. Held annually in more than 600 communities nationwide and 5 locations in our region, this inspiring event calls on participants of all ages and abilities to reclaim the future for millions. To learn more about the Alzheimer's Associate and how to donate please visit [http://www.ALZ.org/cincinnati