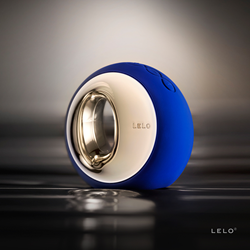 Our attitude is to always improve, even if our products are so highly regarded as to win a Cannes Lion.
Stockholm/San Jose (PRWEB) October 13, 2014
Swedish luxury intimate brand LELO today reveals an update to the world's most sophisticated oral sex simulator and the first ever sex toy to win a Cannes Lions Award, announcing the launch of the all new ORA™ 2.
The ORA™ 2 simulates the sensations of oral sex for women. Its landmark feature is a swirling nub, now enhanced for extra pleasure, that rotates beneath a thin layer of silicone, creating sensual circles and fast flicks to stimulate the clitoris, while combining surging vibrations across 10 stimulation patterns.
The ORA™ 2 is an updated improvement, featuring LELO's SenseTouch™ technology that increases the intensity of vibrations as pressure is applied to the body. It's the world's most intelligent oral sex simulator, and now it's better than ever.
ORA™ first hit the international market in January and received an unprecedented amount of media attention. The video for ORA™ is the most viral sex toy video of all time, with over a half a million views and counting, and is the first and only sex toy to ever win a Cannes Lions Award.
LELO Head of Marketing Steve Thomson said: "LELO is the industry leader and the most innovative sex toy company in the world. Our attitude is to always improve, even if products are so highly regarded as to win a Cannes Lion. With ORA™ 2 we're once again pushing the boundaries of design to bring pleasure to individuals and couples worldwide."
The ORA™ 2 is available for $169 USD at LELO.com/ora and all reputable sex toy retailers.
Note to Editors: All media inquiries can be directed to [email protected]
LELO is the world's leading designer brand for intimate lifestyle products. On launching in 2003, LELO transformed the look, feel and function of how personal massagers were perceived, and now applies the same commitment to quality and innovation through bedroom accessories, soy massage candles and a premium line of silk intimate apparel. LELOi AB is the Swedish company behind LELO, where offices extend from Stockholm to San Jose, from Sydney to Shanghai.