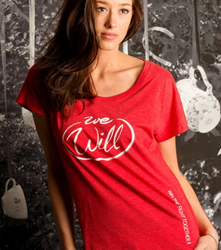 "We will win the fight together," because no one should fight cancer alone. Michelle Hastings, Ringleader WEAR LUCK
Little Rock, AR (PRWEB) October 15, 2014
In 2004, WEAR LUCK Clothing set out to be "Unlike any clothes in your closet." Ten years later that mission took on a new meaning when founder/designer (also known as Ringleader), Michelle Hastings was diagnosed with a serious condition, stomach and esophagus cancer.
The trendy, comfy shirts, pants and skirts WEAR LUCK creates all feature lucky colors, symbols and messages based on tried & true ancient philosophies - Feng Shui, Yoga, Spirituality, Ayurveda and Luck. Each shirt encourages a specific type of luck in the wearer's life: romance, health, career, knowledge, creativity, family and more.
Always wanting WEAR LUCK to be a stand-out in one's closet, Hastings never knew she would be putting her own clothes to the test. In early 2014, she found herself smack-dab in the middle of daily radiation and weekly chemotherapy treatments. As she likes to joke, "Chemo and I don't get along very well." In need of a magic want that would insure a blissful, cheery chemo treatment session, Hastings found herself reaching for her WEAR LUCK Bracelet top and finding comfort in its symbols of hope and encouragement - the ladybug, dove and infinity sign plus its inspiring message of support, "Treasure every moment." All anyone else noticed was its beautiful turquoise color and stretchy draped fit. The symbols and messages are discreet and meant for her alone.
After successful surgery in April and with her co-workers and family around her, Hastings began sketching new designs that focused on providing the positive message that those in her shoes, the family and friends around them, plus the medical staff, who see these patients daily, need.
In collaboration with the Duke University Cancer Patient Center Boutique, WEAR LUCK has designed a "We Will - win this fight together" series of shirts for women and men. Available at http://www.wearluck.com and in boutiques and gift shops around the country, the WEAR LUCK "We Will" shirts are giving people a way to come together and express a positive message of support for those they love and take care of.
Hastings is now cancer free and continues to spread messages of encouragement one shirt at a time.
WEAR LUCK, a division of TRIVIA Marketing, is a clothing company whose mission is to be "Unlike any clothes in your closet." Founded in 2004, all items feature lucky colors, symbols and messages that offer inspiration, support and encouragement, one shirt at a time. All clothes are designed, sewn and printed at the TRIVIA Marketing facility.
Michelle Hastings, Founder/Ringleader.
Beth Wycliffe, National Sales Manager.