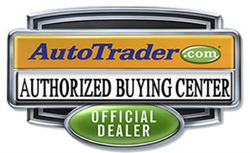 This new partnership will be great for trade-ins, both for consumers and for us.
Brooklyn, NY (PRWEB) October 14, 2014
Brooklyn Mitsubishi, leading Mitsubishi dealer in the New York region, is pleased to announce its new partnership with online auto marketplace AutoTrader.com. Brooklyn Mitsubishi is now an official AutoTrader.com buying center, and can make trade-in offers and directly sell used cars and trade-ins to the consumer through the AutoTrader.com network.
Used car shoppers can access AutoTrader.com through the website or directly through Brooklyn Mitsubishi's website as well. For customers looking to trade in their cars, they can enter a few quick facts about their trade-in: make, model, year, mileage, features, and other details. Once they submit their information, Brooklyn Mitsubishi will quickly respond with an instant trade-in offer for the vehicle.
If the owner wishes to proceed, he or she can print off the trade-in offer and bring the vehicle and the required paperwork to Brooklyn Mitsubishi, where the staff will verify that the specifications indicated online were accurate. After a quick verification, which may include a test drive, Brooklyn Mitsubishi can offer the owner the trade-in value on the spot. Brooklyn Mitsubishi is currently offering trade-in values above Kelley Blue Book's valuation.
"Being a part of AutoTrader's network will allow us to offer some above average trade-in values to an even wider audience" said Chris Prado, Used Sales Manager at Brooklyn Mitsubishi.
Not only can used car owners trade in their vehicles, Brooklyn Mitsubishi can also sell used cars to the AutoTrader.com network.
"We are very excited to be affiliated with AutoTrader.com," said George Ballas, New Sales Manager at Brooklyn Mitsubishi. "This new partnership will be great for trade-ins, both for consumers and for us."
Interested car owners can check out the trade-in tool on Brooklyn Mitsubishi's home page: http://www.brooklynmitsubishi.com/
About Brooklyn Mitsubishi
Brooklyn Mitsubishi is a leading automotive dealer serving Brooklyn, Queens and Bronx, NY. Brooklyn Mitsubishi makes the car buying process as quick and hassle free as possible, with a wide selection of vehicles and a variety of financing options to suit all credit types. Whether you have bad credit, no credit or are a first-time car buyer, you can trust that Brooklyn Mitsubishi will get you into the car or truck that's right for you. Brooklyn Mitsubishi also offers experienced and reliable Service and Parts departments that are open extra hours to help accommodate customers.