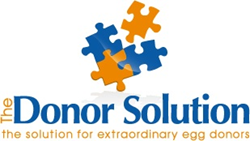 Houston, Texas (PRWEB) October 13, 2014
The Donor Solution, a Texas-based egg donation agency, launched a new website this week that is specially optimized for its audience providing a more streamlined look while increasing the amount of information about the egg donation process.
The new site offers extensive information about egg donation including a step-by-step description of the process, comprehensive requirements on becoming an egg donor and a more intuitive format and navigation.
"Once our clients reach the point of turning to egg donation to expand their family, they have been through a lot emotionally and are having to understand a complicated process on top of that, " said Mary Fusillo, Executive Director and Owner of The Donor Solution, "We wanted to simplify our site while also providing clear, concise information educating them about our agency and the egg donation process."
The enhanced look and improved format of the site makes it easy to navigate to find the information needed while also using images and layout that create a calming and soothing experience for the user.
"At The Donor Solution, we are constantly fine tuning and enhancing our business to offer the best possible experience for our clients, " said Fusillo. "We hope this new website will not only provide our clients with better information but will serve as a repository of information on egg donation and third party reproduction in general."
About The Donor Solution
The Donor Solution is a donor egg agency managed by professionals in the women's healthcare and infertility field including a Registered Nurse with 17+ years of experience and a Board Certified OB/GYN with Reproductive Endocrinology experience as a consulting physician. They are based in Texas with offices in Houston, Dallas, Los Angeles and Phoenix. For more information, go to http://www.thedonorsolution.com.