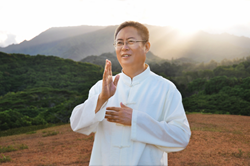 Phoenix, AZ (PRWEB) October 15, 2014
Dr. and Master Zhi Gang Sha, founder of http://www.drsha.com and the New York Times bestselling author of Soul Healing Miracles is leading a Divine soul healing movement around the world that helps individuals find a path to harmony with the universe, achieve balance in their lives, cleanse their karma, be of service to others, and live a life that fulfills their soul's purpose. Dr. and Master Sha's annual sacred Tao I – V Retreats will take place at the majestic Sedona Mago Retreat Center, 3500 Bill Gray Road, Sedona, AZ 86336, where individuals will learn the secrets to healing, longevity and rejuvenation for a better life. For more information and to see Dr. and Master Sha live in person or via webcast, go to: http://www.drsha.com/TaoRetreat/
Dr. and Master Sha, creator of Soul Mind Body Medicine™, will guide a participants through high-level spiritual practices that heal and purify the soul, mind, heart and body. The Tao I – V Retreats are ideal for those with chronic or life-threatening conditions. Nestled in the intersection of soul-enriching wilderness of red rock Sedona, the Tao I-V Retreats are perfect for those who seek answers to the unbalance and turmoil in the present world, and who want more meaningful connections to their environment, to nourish their soul and find a more profound connection to their creator. Registered Tao Retreat participants are invited to Sedona's geological wonderland where USA Weekend notes Sedona as "The Most Beautiful Place in America."
This will be the only time to experience Tao Soul Power techniques in Sedona with Dr. and Master Sha this year. Join Master Sha for 18 extraordinary days of blessings and powerful Tao Soul Power techniques to help beginners and soul journeymen advance on their physical and spiritual journeys live in person or via webcast. Watch Dr. and Master Sha's personal invitation video: https://www.youtube.com/watch?v=sHOvtBQZnwU&list=UUl_CFKw-uytdOks4SOBASww

The Tao I & II Retreats focus on introductory and practical Tao techniques to first heal and prevent all sickness and then begin rejuvenating the body. This is also the perfect opportunity to awaken spiritual directives and advance on the journey to spiritual awakening. Retreat dates are Tuesday, November 11 through Saturday, November 15, 10:00am-10:00pm.
Tao III & IV Retreats is an advanced program open to those who have participated in Tao I & II Retreats and includes high-level, sacred Tao practices for those seeking continued spiritual guidance and are committed to their personal soul journey. These practices and teachings will quickly help individuals open and develop their spiritual channels and gain knowledge and wisdom to serve loved ones, humanity and Mother Earth. Retreat dates are Monday, November 17 through Saturday, November 22, 10:00am-11:59pm daily.
Tao V Retreat is the most anticipated, sacred and profound Tao teaching that Master Zhi Gang Sha has offered and can only be received on site and in person. These teachings will not be available by webcast or teleconference. Dr. and Master Sha is a direct channel of the Source. He receives and imparts sacred wisdom, knowledge and practices as given to him by Source. His chanting of sacred Tao text and Tao Songs carries Tao frequency and vibration with love, forgiveness, compassion and light to transform blockages on the level of soul, mind, and body. Those who participate in the Tao V Retreat will learn higher level practices and techniques to benefit every aspect of life. Prerequisite: participation in Tao I-IV Retreats. Retreat dates are Monday, November 24 through Friday, November 28, 10:00am-11:59pm daily.
Master Sha is a lineage holder of ancient Taoist rejuvenation and longevity secrets of Peng Zu, teacher of Lao Zi. Master Sha teaches in Divine and Tao flow, which means he continually receives sacred wisdom and practices directly from the Divine and Tao. Participants in the sacred Tao I-V Retreats will be empowered to:
Learn what the Tao is and how to experience Tao in daily life
Have profound experience of the Tao
Gain deeper awareness of the significance and benefits of learning Tao
Learn further secrets and sacred practices to:
o Boost your energy, stamina, vitality and immunity
o Heal your physical, emotional, mental and spiritual bodies
o Prevent illness of your physical, emotional, mental and spiritual bodies
o Rejuvenate your soul, heart, mind, and body and prolong your life
o Transform your relationships and finances
o Purify your soul, heart, mind, and body
o Enlighten your soul, heart, mind, and body

Learn more about the ancient Taoist saints' abilities
Receive powerful Divine and Tao transmissions to bless your spiritual journey
Receive Master Sha's personal soul healing blessings to heal, rejuvenate and transform all aspects of your life and bless your soul journey
To register for these events visit http://www.drsha.com/TaoRetreat
Dr. and Master Zhi Gang Sha is the world-renowned miracle soul healer. He has created thousands of soul healing miracles worldwide in the last ten years (http://www.youtube.com/zhigangsha). He is the founder of Soul Mind Body Medicine™. He was trained as a conventional medical doctor in China and a doctor of traditional Chinese medicine in China and Canada. The founder of the Institute of Soul Healing and Enlightenment™ and the Love Peace Harmony Movement™, Dr. and Master Sha is a grandmaster of many ancient disciplines, including tai chi, qigong, feng shui, and the I Ching. Master Sha is also an expert in the most advanced cellular healing science now occurring in China. In the West, he is involved in breakthrough research on the effects of spirit on the human system. Dr. Sha was named Qigong Master of the Year at the Fifth World Congress on Qigong. In 2006, he was honored with the prestigious Martin Luther King, Jr. Commemorative Commission Award for his humanitarian efforts.
An international bestselling author, Master Sha is author of ten books in the Soul Power Series published by Simon & Schuster (Atria Imprint), with each book reaching the New York Times bestselling list and four of them reaching #1. Master Sha's Soul Healing Miracles book published in 2013 by BenBella was instant bestseller on USA Today and Wall Street Journal. His newest book, Soul Mind Body Science System will be launched in Arizona during the Tao Retreats in November, 2014.
For more information, visit http://www.DrSha.com.