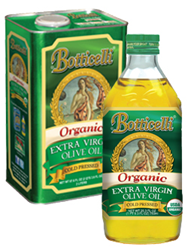 It's not enough for Botticelli's products to enhance the flavor of your meal—we want it to enhance the quality of your life, too.
HAUPPAUGE, New York (PRWEB) October 13, 2014
A healthy diet and a healthy lifestyle often go hand-in-hand. And Botticelli is making it easier to be healthy with its new Organic Extra Virgin olive oil, the natural unprocessed product of the first cold pressing of olives. Full of olive flavor and its characteristic aroma, Botticelli Organic Extra Virgin olive oil is made from the highest quality olives, meets IOOC Standards and is USDA NOP Certified.
To be certified as organic, all crops affiliated with the olive oil must be grown in safe soil, have no modifications and remain separate from conventional products. Synthetic pesticides, bioengineered genes, petroleum-based fertilizers and sewage sludge-based fertilizers are also prohibited in the growing process.
"It's not enough for Botticelli's products to enhance the flavor of your meal—we want it to enhance the quality of your life, too," said Salvatore Asaro, President of Botticelli-Foods. "Organic foods often taste fresher and organic farming has proven to be better for the environment. Additionally, organically-grown foods provide more nutrients and antioxidants. Because of this, we decided an organic option in our olive oil line would be beneficial to our company, as well as our consumers."
True to Botticelli's authentic Italian heritage, this organic olive oil is ideal for cooking, sautéing and as a topping for any dish. It is available in 25.3 oz. bottles and 67.6 oz. tins. Botticelli also offers of full line of olive oils, vinegars, pasta, pasta sauce and roasted red peppers. Botticelli products can be found at retail stores nationwide.
Keep up to date on all of the latest news, recipes and company announcements by liking Botticelli on Facebook, http://www.facebook.com/BotticelliFoods; following it on Twitter, http://www.twitter.com/BotticelliFoods; and visiting the Botticelli blog at botticelli-foods.com/blog.
About Botticelli Foods
Botticelli Foods is committed to bringing the quality and authenticity of Italian olive oil to the American consumer. The tradition of the Botticelli family of products is one that begins in Italy and has spanned in various regions to collect only the finest ripe olives. Botticelli Olive Oil has a one of a kind profile, with a perfect combination of fruit and spice, making the most distinctive olive oil available. For more information, visit the Botticelli Foods website at Botticelli-Foods.com.
Media Contacts:
Michael A. Burns & Associates, Public Relations
Jennifer Green
JGreen(at)MBAPR(dot)com P: 214-521-8596