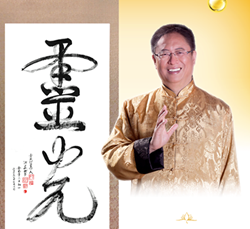 Phoenix, AZ (PRWEB) October 11, 2014
For the first time in Arizona, Dr. and Master Zhi Gang Sha, founder of http://www.drsha.com and the New York Times bestselling author of Soul Healing Miracles showcases his acclaimed Source Ling Guang (Soul Light) Calligraphy and teaches the fundamentals of creating these sacred art scrolls to the public at the Tucson Museum of Art, November 6, 2014, 6-9pm Mtn, 140 N Main Ave, Tucson, AZ 85701 ($25). For more information, go to: https://www.drsha.com/event/shm-nov6-2/ or call 520-624-2333.
To learn more about the Source Ling Guang Calligraphy and how individuals can heal through the Source Calligraphy, watch this six-minute video: https://www.youtube.com/watch?v=NVtudATNyxI
After showcasing his acclaimed Chinese calligraphy scrolls in numerous cities around the world and attracting thousands of people, Master Sha brings his acclaimed Source Chinese Calligraphy to Tucson, AZ to inspire workshop participants to experience the powerful blessings contained in the calligraphies. Featured in Master Sha's newest national bestselling book, Soul Healing Miracles, which debuted on the Wall Street Journal and USA Today bestseller lists, the scrolls radiate the power of soul healing miracles to transform the lives of all who connect with the scrolls.
Dr. and Master Sha will teach participants of the special Chinese calligraphy workshop how to connect with the Divine and transmit that energy into every brush stroke that each person creates. The first of its kind, participants of this exclusive training will learn and write sacred phrases to heal the spiritual, mental, emotional and physical bodies of all who come in contact with the calligraphy art scrolls.
Modern medicine focuses on matter inside the cells. Traditional Chinese medicine and many other healing modalities focus on the energy between cells. Soul Healing focuses on the soul; the essence of a human being. The message of Soul Healing is: Heal the soul first; then healing of the mind and body will follow.®
About the Source Ling Guang Calligraphy :
Unlike traditional Chinese calligraphy that requires years to learn hundreds of brushstrokes, Dr. and Master Sha uses a very unique and rarely taught technique of creating each word with only a single, continuous brush stroke. "This calligraphy is not ordinary art. It is art, but it is more than art. It carries divine soul treasures, Source soul treasures to remove the suffering of humanity," says Dr. and Master Sha. Because Master Sha channels the Source, he transmits blessings to the calligraphies, instantly incorporating the healing and blessing power, teachings, and wisdom into these sacred scrolls. The Source Chinese Calligraphy scrolls create a healing field with extremely high frequency and vibration (power) to transform any aspect of life, including boosting energy, stamina, vitality and immunity, as well as healing, balancing emotions, preventing sickness, transforming relationships, and bringing success to every aspect of one's life.
Dr. and Master Zhi Gang Sha learned this very unique and extremely powerful Chinese calligraphy named Yi Bi Zi from Professor Li Chiu Yun, a top Chinese character expert. Professor Li was educated directly by Tai Shi who is a descendant of Kong Zi, the founder of Confucianism, decades ago. She made a vow never to teach this sacred art form. That is, until she met Master Sha and personally experienced his profound healing abilities and desire to serve humanity. Professor Li started to teach Master Sha when she was 100 years old. With no prior calligraphy training, he quickly mastered this calligraphy form and Professor Li made Master Sha her sole lineage holder of this sacred healing art form.
For more information about the Soul Healing Miracles: Ling Guang Calligraphy Sacred Art Healing and Training with Master Zhi Gang Sha, please visit: http://www.DrSha.com or call the Tuscon Museum of Art at 520-624-2333.
Dr. and Master Zhi Gang Sha is the world-renowned miracle soul healer. He has created thousands of soul healing miracles worldwide in the last ten years (http://www.youtube.com/zhigangsha). He is the founder of Soul Mind Body Medicine™. He was trained as a conventional medical doctor in China and a doctor of traditional Chinese medicine in China and Canada. The founder of the Institute of Soul Healing and Enlightenment™ and the Love Peace Harmony Movement™, Dr. and Master Sha is a grandmaster of many ancient disciplines, including tai chi, qigong, feng shui, and the I Ching. Master Sha is also an expert in the most advanced cellular healing science now occurring in China. In the West, he is involved in breakthrough research on the effects of spirit on the human system. Dr. Sha was named Qigong Master of the Year at the Fifth World Congress on Qigong. In 2006, he was honored with the prestigious Martin Luther King, Jr. Commemorative Commission Award for his humanitarian efforts.
An international bestselling author, Master Sha is author of ten books in the Soul Power Series published by Simon & Schuster (Atria Imprint), with each book reaching the New York Times bestselling list and four of them reaching #1. Master Sha's Soul Healing Miracles book published in 2013 by BenBella was instant bestseller on USA Today and Wall Street Journal. His newest book, Soul Mind Body Science System will be launched in Arizona during the Tao Retreats in November, 2014.
For more information, visit http://www.DrSha.com.