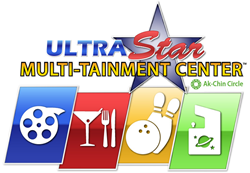 Add a quotable"My culinary philosophy and passion reflect the growing trend towards a healthier and down-to-earth lifestyle. We work with local vendors to find the best ingredients which is the essence of my cuisine
Phoenix, AZ (PRWEB) October 13, 2014
The UltraStar Multi-tainment Center at Ak-Chin Circle revamped their menu offerings in three restaurants inside the 165,000 square foot multi-tainment center.
Executive Chef, Frank Abyeta is excited to introduce his culinary vision to guests. All three main dining areas now have enhanced their menu offerings by introducing his specialty flare of American Continental Cuisine at the 347 Grill, Luxe Lounge and luxury Star Class theaters - featuring in-seat dining with cocktail service.
UltraStar's American Continental Cuisine offers restaurant goers an exciting new array of selections highlighting subtle flavors and fresh ingredients such as Watermelon Spinach Salad featuring freshly grilled watermelon and locally grown spinach. For the heartier appetite the Pork NY boasts center cut pork, topped with a tomatillo poblano cream sauce served with potatoes and seasonal vegetables. Stone fired-pizzas and build-your-own burgers are a favorite among families dining in the 347 Grill.
In the Luxe Lounge, new selections such as the delicious Corned Beef and Hash Sliders feature four sliders with corned beef, fried egg, mustard dill sauce and celery leaf slaw. Additionally, the sizzling Smoked Salmon Flatbread topped with herbed brie cheese, arugula and fennel drizzled with dark ale maple syrup and the Blue Corn Breaded Crab Cake Sliders have become instant favorites.
In addition to the luxury theater seating on the second level, 12 Star Class auditoriums offer in-seat ordering with dining options such as exclusive Native Fry Bread Tacos topped with charro beans, ground beef, shredded lettuce, tomatoes, cheese and house made salsa in addition to traditional concession items such as their famous popcorn available in four flavors.
"My culinary philosophy and passion reflect the growing trend towards a healthier and down-to-earth lifestyle. We work with local vendors to find the best ingredients which is the essence of my cuisine", said Executive Chef Frank Abyeta.
347 Grill offers a Sunday Brunch from 10am-3pm every week, Tuesday's are Family Night where a child eats free with every adult entrée purchase and Wednesday's are All You Can Eat Pasta Night. Luxe Lounge, a 21 and over sports lounge, features weekend DJ's, 17 televisions plus a big screen where sports fans gather. Star Class theaters are inside the UltraStar Cinemas, an upscale luxury theater for those 21 years old and over offering comfortable oversized theater seats featuring in seat ordering and cocktail service.
About UltraStar Multi-tainment Center at Ak-Chin Circle:
The UltraStar Multi-tainment Center at Ak-Chin Circle, an enterprise of the Ak-Chin Community, is operated by California-based UltraStar Cinemas. UltraStar Cinemas is recognized for pioneering the digital age of cinema. They are the first theater group in the world to be fully equipped with Pure Digital Cinema® powered by DLP Cinema® technology in all of their locations. The UltraStar Multi-tainment Center at Ak-Chin Circle features "One stop, non-stop entertainment." Guests experience adventure, competition, entertainment and relaxation all conveniently located under one roof. The Multi-tainment Center features state-of-the-art digital theaters, bowling, dining, sports lounge, live entertainment, laser tag and arcade gaming as well as corporate and private event facilities. It is located at 16000 Maricopa Rd., Maricopa, AZ. http://www.ultrastarakchin.com
About Ak-Chin Indian Community:
The Ak-Chin Indian Community is nestled into the Santa Cruz Valley of Southern Arizona. The Community lies 58 miles south of Phoenix in the northwestern part of Pinal County. Ak-Chin is an O'odham word translated to mean "mouth of the wash" or "place where the wash loses itself in the sand or ground." Ak-Chin has an enrollment of more than 947 tribal members and a land base of just over 22,000 acres. For more information on the Ak-Chin Indian Community, visit http://www.ak-chin.nsn.us.
XXX
Media contact:
Christine Holtz
Phoenix Marketing Associates
602-282-0202