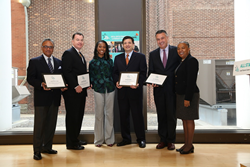 It's clear that All Stars helps to change lives, and my colleagues and I are excited to continue our work with this organization – to give back and make a real difference in the lives of less fortunate kids and their families.
Newark, New Jersey (PRWEB) October 12, 2014
The All Stars Project of New Jersey (ASP NJ), an innovative leader in afterschool development headquartered in Newark, New Jersey, designated PricewaterhouseCoopers (PwC) its 2014 - 2015 Financial Literacy Partner. ASP NJ recently received a $50,000 grant from the PwC Charitable Foundation, Inc. to support All Stars' Development School for Youth (DSY) leadership training program in which inner-city teenagers learn to perform as professionals and collaborate with business leaders in workshops and summer internships.
"PwC has clearly demonstrated its long-term commitment to youth education, having worked with our organization alone for more than 10 years," ASP NJ City Leader and founder Gloria Strickland said. "The PwC Charitable Foundation, along with PwC US, its partners and employees really care about the young people we reach. They have been very generous in giving financial resources and also time and talent to build the DSY program and help inner-city young people grow and be successful in the world."
As part of PwC's Earn Your Future (EYF) initiative, dozens of employee volunteers bring their talents and experiences to the DSY, leading financial literacy workshops at the firm's Florham Park, New Jersey office and introducing budgeting to program graduates at the beginning of the paid summer corporate internship component of the program.
Said Amani Abdul-Majeed, one of the more than 200 young people participating in the DSY program over the last year, "The Earn Your Future workshops taught me financial literacy, sustainability and overall key life tools – things that don't always happen in the classroom." As a summer intern at PwC, Abdul-Majeed also helped to bring the training to other young people. "I also traveled to Passaic and taught a group of Girls Scouts the importance of saving and investing. It was a phenomenal moment when one of the girls I worked with explained her future investment plans to me," she said.
Over the last three years, the PwC Charitable Foundation has provided ASP NJ with $150,000 in grants to expand its efforts to transform young people's lives and move Newark and New Jersey forward, including supporting the opening of the All Stars award-winning development center in downtown Newark in 2013. PwC Partner Dominick Rizzo has been a member of the ASP NJ Board of Directors since 2012.
"We care about the New Jersey communities where we live and work," Mr. Rizzo said. "It's clear that All Stars helps to change lives, and my colleagues and I are excited to continue our work with this organization – to give back and make a real difference in the lives of less fortunate kids and their families."
About the All Stars Project (ASP): ASP is a 33-year-old national nonprofit that transforms the lives of youth and poor communities through the developmental power of performance in partnership with caring adults. It sponsors a wide range of programs that include hip-hop talent shows, training in theatre and the arts and programs that partner with the business community. ASP is 100% privately funded. For over three decades, tens of thousands of individual donors nationwide have given $90 million and millions of hours of personal time to share their lives, expertise, workplaces and even their homes with some of our nation's most disadvantaged young people. ASP is headquartered in New York City on West 42nd Street and has established programs in six cities – New York City, Newark, NJ, Chicago, IL, the San Francisco Bay Area, CA, Dallas and Bridgeport, CT.
About The PwC Charitable Foundation, Inc.
The PwC Charitable Foundation, Inc., a section 501(c)(3) organization, makes contributions to the people of PwC in times of financial hardship, and to nonprofit organizations that support and promote education and humanitarianism.
About PwC US
PwC US helps organizations and individuals create the value they're looking for. We're a member of the PwC network of firms, which has firms in 157 countries with more than 195,000 people. We're committed to delivering quality in assurance, tax and advisory services. Find out more and tell us what matters to you by visiting us at http://www.pwc.com/US.
PwC refers to the US member firm, and may sometimes refer to the PwC network. Each member firm is a separate legal entity. Please see http://www.pwc.com/structure for further details.