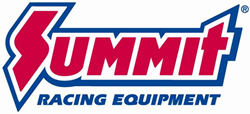 Tallmadge, OH (PRWEB) October 15, 2014
Summit Racing now invites its customers to write product reviews on parts they have purchased on its web site, SummitRacing.com. Honest product reviews help other people decide if a part or accessory performs as advertised and is a good value for the money and many reviewers offer installation advice or explain what other parts or tools are needed to install the part.
A candid review will alert Summit Racing that people are unhappy with a part. The company reads every review that is posted, and looks at all parts that get a negative review to identify a problem and take steps to fix them.
Summit Racing's product reviews let a customer rate a part by quality, appearance, ease of installation, and price/value. They can also write about their experience with the part (installation difficulty, workmanship, function, etc.) in their own words. Handy Review Guidelines to help customers write an effective review.
Customers can write a product review about any part that is on SummitRacing.com. The process couldn't be easier:

Enter the part number of the product to be reviewed
Click on the "Review This Product" link
• Create a review by logging into a Summit Racing customer account, or by clicking the "Review as Guest" button

Write and post the review
Summit Racing strongly encourages its customers to take a few minutes to write a product review and let uthem and their fellow enthusiasts know how about their experiences with the products they buy from Summit Racing.
Summit Racing Equipment
http://www.SummitRacing.com
1-800-230-3030