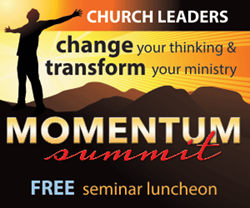 The Momentum Summit will help your church capture the momentum and expand ministry impact.
Charlotte, NC (PRWEB) October 12, 2014
Building God's Way ("BGW"), a company that has created a nationwide network of services exclusively for faith-based organizations, will be hosting a free half-day seminar luncheon for ministry leaders on Tuesday, October 14 at The Carole Hoefener Center in Charlotte, NC.
The event is free for ministry leaders and a complimentary lunch will also be served. Momentum Summit will feature expert speakers in the areas of church health, growth, facilities, funding and technology. This event is part of a 10-city fall seminar series and is expected to draw church leaders from throughout the region.
Seminar topics will include: "Positioning your church for health & growth"; "Rethinking facility construction & remodel"; "Innovative new funding strategies"; "Multi-site expansion planning"; "Ministry spaces for all generations"; and "Cost-effective solutions for cutting-edge A/V technology".
The event will be co-sponsored by Construction Systems, Inc, the exclusive BGW church builder for the state of North Carolina. Attendees will learn innovative ideas and strategies from a panel of speakers who have worked with hundreds of churches across the country.
The event will run from 9:00am - 12:15pm, followed by a complimentary lunch. For more information or to register, visit the event website or call 866-249-8484.
About Building God's Way (BGW) - BGW has become a recognized leader in ministry design and construction through its extensive experience in working with hundreds of churches, Christian schools and colleges across the U.S. BGW's trademark programs based on Biblical stewardship and ministry on the construction job site have set them apart from other church builders and includes an unparalleled network of services, including church design, church building, church growth coaching, vision casting, capital fundraising, non-profit development, financial solutions, worship technology and more. For more information about BGW, call 844-413-8368 or visit the BGW web site.