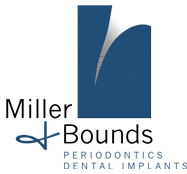 Irvine, CA (PRWEB) October 11, 2014
Dr. Todd E. Miller and Dr. Steven J. Bounds strongly encourage all individuals who are suffering with gum disease in Irvine or Orange County, CA to call their office and schedule a consultation in honor of Dental Hygiene Month. Dr. Miller and Dr. Bounds are qualified to perform the LANAP® protocol, which is a minimally invasive and highly successful laser based treatment of gum disease. Laser treatment for gum disease is minimally painful because there are no incisions or suturing, is less time consuming and equally successful to traditional gum surgery.
Those who suffer from gum disease in Irvine or Orange County, CA know how life altering it can be. Gum disease is characterized by bleeding gums, bad breath, receding gum tissues, and bone loss. Additionally, gum disease can eventually lead to tooth loss and has been shown to have a relationship with other diseases throughout the body. Although the exact relationship is still unclear, studies show that gum disease is linked with heart disease, diabetes, low birth weight babies, cancer and other serious physical ailments. Patients who want to eliminate their gum disease symptoms as well as reduce their risk of other serious systemic diseases are invited to find out if they are candidates for laser treatment.
Patients who receive the LANAP® protocol do not need to worry about the possibility of healthy gum tissue being removed or damaged alongside infected gum tissue. The PerioLase® MVP-7™ laser that is used during the LANAP® protocol is designed to locate and remove only gum tissue that is infected. As a result of its pinpoint accuracy, healthy gum and bone tissue are left completely unharmed during the procedure. The LANAP® protocol is not only very precise, but is also very effective at sealing off the treated area once the diseased gum tissue has been removed. Because the area is sealed off so quickly and effectively, there is less chance of the patient developing an infection than if sutures were utilized to close the area.
Individuals who are suffering from gum disease in Irvine or Orange County, CA are strongly encouraged to take advantage of Dental Hygiene Month by scheduling a laser treatment appointment with Dr. Miller's and Dr. Bounds' Irvine practice.
About The Doctor
Miller & Bounds Periodontics and Dental Implants is a periodontal practice providing personalized dental care for patients in Irvine, CA. Dr. Todd E. Miller received his Doctor of Dental Surgery from the University of California Los Angeles Dental School in 1980, where he also served as a clinical periodontics instructor at the UCLA Dental School. Dr. Miller's partner, Dr. Steven J. Bounds, graduated from Creighton University School of Dentistry, where he received his Doctor of Dental Surgery degree in 1996. Dr. Bounds went on to complete his Certificate of Specialization in Periodontics at Ohio State University, where he also served as a clinical instructor to the university's dental students and contributed to biochemistry research efforts. Both doctors have extensive experience in all aspects of periodontal treatment, including dental implants, periodontal plastic surgery, gum and bone regeneration, and IV conscious sedation. Drs. Miller and Bounds are among the first group of periodontists and dentists in the country to undergo the training required to perform the Chao Pinhole Surgical Technique™, a new, minimally invasive alternative to traditional gum grafting surgery. They also belong to the one percent of dental professionals currently providing the LANAP® protocol, the first FDA-cleared laser procedure for gum disease and periodontal treatment. To learn more about the dental services available at Miller & Bounds Periodontics Dental Implants, please visit http://www.millerandbounds.com or call (417) 889-5297.