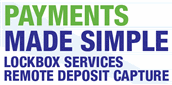 Stoneham, MA (PRWEB) October 11, 2014
Lighthouse Payment Services Inc., a leader in lockbox payment processing, today announced that it will exhibit at the Virginia Association of Community Banks 37th annual conference to be held October 19th to the 23rd at the Virginia Beach Hilton in Virginia Beach, VA.
The event, put on by the VACB, will feature a variety of speakers as well as a number of vendors showcasing the latest offerings in the banking industry. There are some exciting activities lined up for guests including a tour of a local Brewery and the Military Aviation Museum. The conference begins with a reception from 6pm-8pm on Sunday Oct 19th and will conclude on Tuesday the 21st with prize giveaways by the vendors.