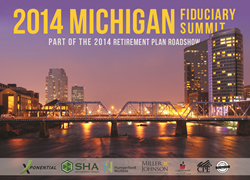 the ability to replace a paycheck in retirement should be the ultimate gauge of success for a retirement plan
Grand Rapids, MI (PRWEB) October 28, 2014
Xponential Growth Solutions is pleased to announce that it will be hosting another event in Michigan for the 2014 Michigan Fiduciary Summit. This time, Xponential Growth Solutions makes a stop in Grand Rapids. This Fiduciary Summit will bring together both local and national experts to interact with employers made up of CFOs, HR Directors, and Business Owners. Speakers will provide insights to help employers reduce fiduciary risk, identify plan upgrades, and make better decisions that positively impact participants.
Jon Freye, Managing Director at Xponential Growth Solutions emphasizes, "Our Partners believe the ability to replace a paycheck in retirement should be the ultimate gauge of "success" for a retirement "Plan". We are excited about the opportunity to have so many industry experts together to share their insight into tools and concepts available today to measure and manage this objective."
Keynote Speakers include:
· Kelley F. Snook, Jr., AIF – President – SHA Retirement Group
· David Anderson – Vice President, Retirement Consultant – SHA Retirement Group
· Tricia Van Vliet, CPA – Employee Plan Benefits & Consulting – Hungerford Nichols
· Frank Berrodin – Attorney – Miller Johnson
· Lisa Murphy – Senior Account Manager, Benefits – Lighthouse Group
· Diane Gallagher – VP DCIO Practice Management – American Century
· Tom Stephenitch – Regional VP – Transamerica
A Target Date Fund Panel will be featured at the summit and will include Senior Personnel from:
· American Century
· PIMCO
· Invesco
Topics of Discussion:
· What Every Fiduciary Should Know For 2014 & 2015
· Target Date Fund Panel
· Local Industry Expert Professional Panel
· Local Plan Sponsor Panel – Improving Plan Outcomes
· "Reflections in the Mirror" – Participant Behavior Study
The 2014 Michigan Fiduciary Summit is the seventeenth stop of the Retirement Plan Roadshow and will be held at Grand Valley State University's Eberhard Center located at 301 West Fulton Room 210 Grand Rapids, MI 49504 from 8:00 am to 12:00 pm (Breakfast will be served). The Michigan Fiduciary Summit is approved for 3 CPE/CPA credits and 3 HRCI general credits. Seating is limited and local plan sponsors will receive priority registration. Additional details and registration information can be found using the link below. Seating is limited and priority will be given to local plan sponsors, with a waived $150 registration fee available on a limited basis. For additional event details, overview of our Elite Retirement Consultants, and registration visit: http://xgrowthsolutions.com/retirement-events/2014/10/2014-michigan-fiduciary-summit/
About Xponential Growth Solutions
Xponential Growth Solutions (XGS) unites 401(k), 403(b) and retirement plan sponsors with elite resources and exclusive connections. Through research, fiduciary summits, and industry expertise, they help the nation's retirement plan sponsors, fiduciaries, and trustees evaluate their plan and navigate the retirement plan industry. Working to help America reach their retirement goals one retirement plan at a time, XGS also founded the Retirement Plan Roadshow, a national series of fiduciary educational summits dedicated to human resources, finance and business professionals in charge of America's 401(k), 403(b), and retirement plans.
Contact Information
Jon Freye
Xponential Growth Solutions
619-795-3920