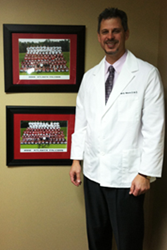 Buford, GA (PRWEB) October 11, 2014
Dr. Randolph S. Moore extends an invitation to all patients with missing teeth in Buford, GA to observe Dental Hygiene Month by inquiring about dental implants from his practice. By utilizing advanced 3D technology called the Cone Beam 3D Dental Imaging System, Dr. Moore is able to place implants faster and more easily than before. Patients with missing teeth due to periodontal disease, genetics, injury, or any other reason may be good candidates for receiving Cone Beam technology for implant placement.
There are many reasons why residents may have missing teeth in Buford, GA. Advanced periodontal disease, severe gum recession, sports injuries, car accidents, and congenitally missing teeth can all cause or contribute to the loss of teeth. When empty tooth sockets are not promptly filled, the patient can experience negative repercussions such as jaw bone degradation, shifting of teeth, and an undesirable appearance. In order to combat these negative side effects and to help patients achieve healthier mouths during Dental Hygiene Month, Dr. Moore offers dental implants that are placed with the help of the Cone Beam Imaging system.
Cone Beam Imaging is commonly utilized along with CT scans to create panoramic images that are highly detailed and clear. The Cone Beam System exposes patients to a fraction of the radiation that they would receive using a standard x-ray machine. This means that the Cone Beam system is much safer for all patients, especially if they suffer from an ailment that causes them to be especially sensitive to radiation exposure.
In addition to being much safer than x-rays, Cone Beam Imaging also makes it easier for dental professionals to visualize the affected area and create the most effective treatment plan while analyzing potential risks and critical oral structures. Cone Beam Imaging is also very quick and is typically less costly than x-ray technology.
Dental patients with missing teeth in Buford, GA are highly encouraged to learn more about Cone Beam technology for the placement of dental implants during Dental Hygiene Month. An appointment may be scheduled by calling Dr. Moore's Buford practice and speaking with an office representative.
About the Doctor
Dr. Randolph S. Moore is a general dentist offering personalized dental care for patients in the Buford, GA area for over 20 years. Dr. Moore received his degree from the University of Alabama in Birmingham, and completed his residency at the Veterans Hospital in Birmingham. Dr. Moore is active in the dentistry field and is a member of the Georgia Dental Association, the American Dental Association, American General Dentistry, American Academy of Cosmetic Dentistry and ICOI (International Congress of Oral Implantologists). To learn more about Dr. Moore and his dental services visit their website at http://www.smilemooredentistry.com/, or call (770) 545-6141.