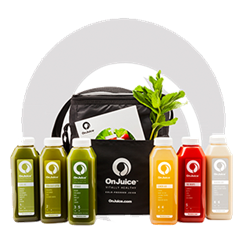 Miami, FL (PRWEB) October 13, 2014
Vegan delight, OnJuice introduces the Wanderlista Cleanse, a three- or five-day cleanse of six juices, carefully selected by Andria Mitsakos to promote wellness for on-the-go wanderers nationwide.
As a serial entrepreneur, international public relations consultant, designer, and style curator with an action-packed calendar, Andria understands what it takes to maintain a consistent healthy, balanced diet to keep her skin glowing, body lean and metabolism energized as she shuttles from one destination and to another. Being the woman who defines travel through culture and style, Andria brings her latest lifestyle concept brand Wanderlista—which includes concept stores in hip outposts around the globe—to Miami, where she is often seen with her hand perpetually wrapped around one of her favorite raw, cold-pressed juices. It was only natural for her to team up with OnJuice, South Florida's cold-pressed juice delivery company.
Choosing a selection of her favorites so that others can live well like a Wanderlista, the namesake signature cleanse is perfect for those who want to stay fit and be healthy. Made with organic, easily-digested, nutrient-dense juices into a daily routine in the most convenient way possible, OnJuice helps repair a pH balance and creates a healthy alkaline environment free from chronic fatigue, headaches, insomnia, depression, allergies, aches, pains, digestive problems and unhealthy skin. The selection of juices from the Wanderlista Cleanse includes:

UPSKALE - the perfect combination of hydrating ingredients for rejuvenation and relief of common health ailments caused by improper diet and unhealthy eating habits, especially after shuttling across the globe
SKINNY GREENS - a feature presentation while balancing the body's alkalinity and letting go of those final few pounds
LEMON AID - the well-needed immunity booster to ward off ailments
UNBEETABLE – tackles the toughest skin imbalances with all-natural ingredients improving complexion, repairing damaged skin cells and giving skin that natural glow
DEEP GREEN - the ideal option for the serious juicer, this is packed with super ingredients like spinach, parsley, romaine, lime, ginger and chlorella to kick start the day with full steam ahead
SUBLIME - as the name suggests, this juice is sweetened with green apple and lime, complete with Vitamin C, Vitamin E and healthy phytonutrients from spinach, ginger, cucumber and parsley to keep seasonal colds and flu at bay.
Made fresh daily, OnJuice is a vegan delight bottled and delivered immediately to ensure the ultimate in freshness and quality. The three or five-day package include six juices daily packed with nutrients that Andria knows are needed to promote weight loss, flush toxins, improve complexion, increase energy, and boost immunity, as well as a 21-page manual with tips and recipes. A 20 percent off special offer on three- or five-day cleanse is available with promotional code: Wanderlista. Florida and national delivery available via FedEx Priority Overnight with varied shipping costs.
Get your Wanderlista OnJuice today! Call 1.800.495.5008 or order online onjuice.com/wanderlista. For more information on Wanderlista, visit wanderlista.com or follow @wanderlista on Instagram, Facebook, and Twitter.
ABOUT ONJUICE
Following the success of South Florida's fastest growing gourmet meal delivery service, DeliverLean, in 2012, passionate founders Scott Harris and Olga Kuzenkov felt ready to share their prized recipe of liquid health. OnJuice is a complete lifestyle and wellness company that offers health, nutrition and balance through a range of convenient products and services. OnJuice is unpasteurized, cold-pressed, bottled and completely chemical-free. The crucial component of our liquid magic is the cold-pressed process that the ingredients undergo before they make their way to your grateful lips.
ABOUT ANDRIA MITSAKOS/WANDERLISTA CLEANSE
From Manhattan to Miami, Mykonos to St. Maarten, Wanderlista Andria Mitsakos embraces the art of travel through culture and style. A designer, publicist, globetrotter and owner of her namesake concept stores in hip outposts around the globe, she's always on the go, and recognizes that right nutrients are needed to revive and refresh her body. With on-the-go Wanderlistas like you in mind, now you can stay fit, be healthy and live well with her signature cleanse. Onjuice.com/wanderlista