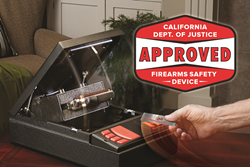 Grand Island, NE (PRWEB) October 13, 2014
Hornady® revolutionized firearm protection with the introduction of Hornady® Security in 2014, a product line that includes the RAPiD® Safe, Shackle™ Box, and TriPoint® Lock Box.
Each safe exceeds stringent ASTM International performance standards, including ASTM F2456-04 for youth-resistant firearms containers. Safes must pass a series of tests that include 12 different attacks to gain access to the firearm, before receiving ASTM F2456-04 certification. Hornady® Security products performed flawlessly in all 12 attacks.
Matt Mack, Project Engineer for the Hornady® Security Division, was pleased but not surprised to receive notification that the safes met CA DOJ approval. "The CA DOJ generally requires all firearms purchased in California to be accompanied with a firearms safety device that has passed required safety and functionality tests. We made sure our products met the strictest standards possible, while still providing quick access," he said. "As one of the few manufacturers to pass ASTM testing, we're confident about offering a secure container to store your handguns and the CA DOJ approval simply verifies our efforts."
Founded in 1949, Hornady® is a family owned business headquartered in Grand Island, Nebr. Proudly manufacturing products that are made in the USA, Hornady® is a world leader in bullet, ammunition, reloading tool and accessory design and manufacture.
For further information regarding Hornady® LE products, visit http://www.hornadyLE.com. For more information about all Hornady® products, visit http://www.hornady.com. Media members interested in Hornady® products for editorial review should contact Neal Emery at nemery(at)hornady(dot)com.
# # #